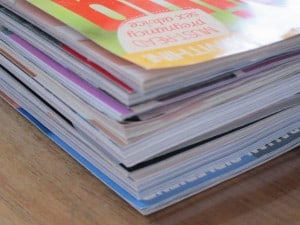 YOU have followed how to write a press release that gets noticed and been given a step by step guide to writing a press release, but sometimes you just need to see it in action. For those still struggling with how to put together their release, here's an example.
There will be further templates in different styles in the coming weeks and months. They'll also be more legitimate than this one. This release is, well, partly made up. There was a bit of anecdotal evidence, but no actual statistics to base this one on. So please don't judge it on the strength of the writing, but more its layout.
FOR IMMEDIATE RELEASE
March 15, 2011
MOVE OVER MUMMY BLOGGERS, HERE COMES DAD
Daddy blogs on the rise in Australia
Devonport, TAS – March 15, 2011  WITH more than 2000 Australian mummy blogs now registered, daddy bloggers are finally catching on. It seems 2011 may be the year of the daddy blogger, following a rise in dads either starting their own blogs or sharing a space online with their mummy counterparts.
Tasmanian journalist Julian O'Brien is among that contingent, having begun blogging with his wife Kellie at Three Li'l Princesses in January. Although, as he points out, it's all from his own `online room' called `The Shed'. "Even in the virtual world we get relegated to the shed,'' he said, laughing.
O'Brien believes dads are now moving to blogs to share their parenting experiences – and feelings – after first dabbling in social media platforms like Facebook and Twitter. "It's so easy for us to get online and say what we're feeling, whereas we probably wouldn't say it to each other face to face. Blogging is just a longer version of a Facebook status update and Tweets.''
However, he said it's not just dads who were seeking out his viewpoint. "Mums appreciate a male perspective on parenting too. It helps them understand where their partners are coming from,'' he said.
While many bloggers coming through are stay-at-home-dads, O'Brien works full-time but refers to himself as a "hands-on'' parent. "The blog's been a great way for me to share what it's like to find a balance between work and parenting. Usually it's women who talk about finding that `balance', but it's important for dads too.''
" For us, the blog's also about having a record of our girls' early years. Our three-year-old comes out with some classic lines and it'll be nice for her to look back on those in years to come. Without the blog, we probably wouldn't record them. Neither of us ever kept diaries.''
The blog is a continuation of Kellie's long running, successful newspaper column based on her experiences being pregnant and giving birth to their first child, which reached 90,000 readers. They now blog about their two daughters – Kellie is the third "li'l princess''.
Julian O'Brien is a newspaper deputy editor, daddy blogger and dad to two daughters. He began his journalism career 18 years ago, with his highlight being the Sydney Olympics in 2000. He shares the Three Li'l Princesses blog with mummy blogger and journalist Kellie. You can contact Julian at job91410 (at) bigpond (dot) net (dot) au.
# ENDS #
For more information, or to arrange an interview contact:
Julian O'Brien, Three Li'l Princesses author, work: (03) 6440 xxxx, mobile 0419 xxx xxx, email: job91410 (at) bigpond (dot) net (dot) au, web: www.threelilprincesses.com
TESTIMONIAL:
"Since Three Li'l Princesses began, I've been an avid reader. It not only gives me a good laugh, but I'm learning quite a bit as a new dad and sharing some of my own experiences through the comments section. My mates and I talk footy and cricket, but rarely about how to deal with a fussy eater. It's so refreshing hearing it from a dad's mouth (or keyboard) and to realise you're not alone in your thinking.''  – Tim Roberts, dad to seven-month-old Jack and three-year-old Elissa, Ulverstone, Tasmania.
To keep following the Media Room series, make sure you subscribe to the site.