The winner of the $250 ECCO shoe voucher is…..
Well, first, there are some things we need to discuss. I know, I'm a tease!
As part of this giveaway, I asked you, my dear readers, to vote in my poll to find out what it was you wanted more of on Three Li'l Princesses. It was no surprise to either me or the Bloke in The Shed that you wanted more humour. And us going head-to-head in He Said She Said.
This is what we've built the site on – having a laugh. We know all too well that parenting can be challenging, but there are also those moments that make you laugh out loud.
I'm no Naomi from Seven Cherubs, who astounds me with the way she can rear seven children and keep it all together. She is one impressive mama with a wealth of mummy knowledge to boot.
I'm no Lori from Random Ramblings of a Stay at Home Mum, who is enduring the one thing we all fear – the loss of our child's parent. On each visit to her site, I shed a tear and just wish I could reach out and give her a big hug. Her world has turned upside down, yet here she is helping others experiencing the same situation. Remarkable.
I'm no Veronica from Sleepless Nights, whose son has just been diagnosed with autism, while she battles Ehlers Danlos Syndrome. It's not uncommon for her hips, her wrists or her ribs to dislocate. I'm in awe of her strength. Not only that, you'll find her on Twitter constantly helping others figure out this whole blogging thing.
There are plenty more women like this floating around the blogosphere. I admire each of them for sharing their experiences and helping other mums in the same situation. They sure give me a reality check on those days when I complain about the little things in life.
So, all I can offer in our little palace is a laugh; a place to escape the pulling-out-your-hair moments for a little "time out''. So thanks for letting me know I'm on the right track. Oh, and giveaways… of course!
Speaking of which, the winner of the shoe voucher is….. (drum roll)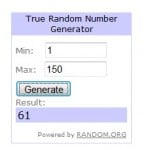 Cate from Keepcatebusy. Congratulations Cate. Happy shoe shopping with ECCO shoes.
She had this to say in her entry:
Hi there! I just found your blog through Maxabella's grateful linky and have already put in my entry over a seven cherubs and couldn't resist jumping on the bandwagon over here too!!
I would choose maybe the golf street in purple? Or the casual cool in white??
Love these shoes!!
xxxCate
 PS Feel free to join our Royal Wedding Pyjama Part-ay tonight from 7pm. Just follow this hyperlink and click the arrow once it's live to join in.
What are your favourite blogs?