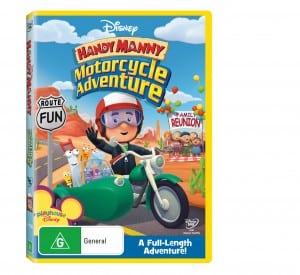 SUNDAY afternoons in our house are movie afternoons. They include the whole family, freshly popped popcorn and a movie-length DVD. While Princess Ella's still only three, her attention span has improved enough that she can sit through a full movie now.
This week we brought movie afternoon forward a few days to review Handy Manny: Motorcycle Adventure, due for release April 6. The tool-toting Hispanic, who has taught my daughter the odd bit of Spanish (see Our kids give us a sign to learn about her language learning skills), is now in his first full-length adventure.
However, it wasn't just Ella excited about this one, after discovering it celebrated what Sunday afternoon means to us: family. The story follows Manny and his talking tools as they head out on a road trip to Manny's family reunion.
Along the way they encounter the usual road trip obstacles – fixing motorbikes, running out of fuel, flat tyres, cows blocking roads and large ravines. However, it's screwdriver Pat veering off in search of his own family which causes their plans to take the biggest turn of all.
Favourite parts:
The strong message of family values and the definition of family being more than simply blood relatives.
As always with Handy Manny, the importance of working together as a team to achieve their goals.
A toe tapping soundtrack with fantastic melody and rhyme that wasn't long picked up by our singing diva.
Getting out of neutral-coloured Sheetrock Hills and using some incredibly lush countryside settings.
Mickey Mouse Clubhouse: Goofy's Magical Mix-up as the bonus feature – Mickey is a favourite in this house.
In all, this is another great edition to Disney's full length releases. It will sustain the attention of little viewers, while warming the hearts of parents through its wondeful message. 
 

To go in the draw to win a copy of Handy Manny: Motorcycle Adventure, simply:
Leave a comment telling us your child's favourite Disney character
Make sure you like us on Facebook
The giveaway ends April 8, 2011. Winner will be announced on this site. Open to Australian residents only.
Disclosure: I received a complimentary review copy of the DVD courtesy of Walt Disney Studios Home Entertainment via Aussie Mummy Bloggers. No financial payment was offered nor accepted for this post. All opinions expressed are purely my own