MY MOTHER'S Day weekend couldn't have been more perfect. There were moments of laughter (yes, OK, so you expect that from the O'Briens) and plenty of happy tears.
Here's how it played out:
HAPPY TEARS: I was given the best Mother's Day present ever the night before when Baby Holly, whose five-hour stretches of sleep in the past seven months could be counted on one hand, delivered an incredible seven-hour stretch of sleep. Yes, I got up once, Just once. Bliss. Sure, it was followed by then being awake for 1.5 hours from 3am, but I am so not complaining. A full report of how this was achieved is coming in the Sleep Challenge on Thursday.
LAUGHTER: Saturday night was spent trying to get out of three-year-old Ella what she had bought me for Mother's Day. Here's the script:
Mum: "So, what did you buy me?''
Ella (in a hushed voice): "Shh, I can't tell you. It's a secret.''
Mum: "How many presents did you buy me?''
Ella: "Lots. But shhh, I can't tell you. It's a secret.''
Mum: "What was your favourite present?''
Ella: "I can't tell you. It's a secret.''
Mum: "Hmm, which one did you wrap first?''
Ella: "No Mum. I can't tell you. It's a secret.''
Mum: "Did you get me a book?''
Ella: "Yes! Ah, no, it's a secret.''
Busted!
LAUGHTER: As a follow on from that conversation, that night Baby Holly and I went into Ella's room to give her a kiss goodnight. At the same time, her Dad was trying to decide with her what books, picked up at the library that day, to read. Ella caught sight of one of the books and yelled out: "NO DAD! It's meant to be a surprise. Remember?'' Apparently, one of the books they'd bought for Mother's Day looked remarkably similar to one of her library books. Busted, again!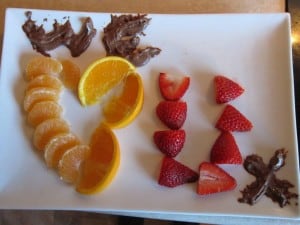 LAUGHTER: Mother's Day morning, Julian and Ella donned their Masterchef aprons and made me a bowl of cereal, a cup of tea and a platter of fruit with "drizzled'' chocolate. Unfortunately, it just looked like poo on a plate. Even more unfortunate was that a chocolate Easter bunny died to make my breakfast.
HAPPY TEARS: Last night I gave Ella a big hug and kiss and thanked her for a wonderful Mother's Day. She stroked my face, smiled at me and said: "You're welcome.''
What was the highlight of your Mother's Day?
Linking to FlogYoBlog Friday (ah, Saturday) with Where's My Glow?