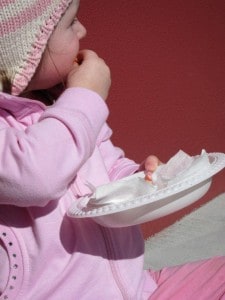 This week I'm grateful for:
For my three-year-old daughter allowing me to see what I've become this week under the effects of a cold and sleep deprivation. Jiggling her "baby'' on her hip this afternoon, she remarked how her bub was very tired. "You woke her up. I'm very annoyed with you. She's going to be very tired now. OK? You were very naughty.'' She then produced a rather over-the-top frown, with furrowed brow. Oh dear. I need to relax.
Again, for Ella, realising my misery this week, allowed me a 20-minute nap one afternoon. Well, after poking me in the head 15 times and then shouting "Wake up, Jeff''. But there was 20 minutes uninterrupted sleep, none-the-less.
A pain in the chest (most likely indigestion) being the catalyst for me teaching Ella what to do in an emergency. There were some rather humorous moments (of course), but you'll have to wait 'til Tuesday for the full story.
I'm joining with  Maxabella Loves to share what I'm grateful for.