WITH all the excitement of our Melbourne trip now behind us *sigh*, we've already started planning the next interstate holiday *jump for joy*. But it's not for a quite a few months yet *sigh*. But by then the weather will have picked up *jump for joy*.
Our options are to fly or go via this.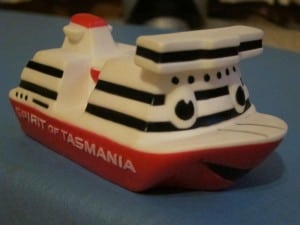 Well, the version without eyes and a mouth, anyway.
Princess Ella gets to see this out the lounge room window every day. If you haven't figured out what it is, it's the Spirit of Tasmania. Each time we watch it come in and out of the Mersey River, Ella remarks "there's Uncle Rick's boat''. He doesn't own it; he just sailed on it – once.
Funny story, just prior to going to Melbourne, Julian was talking to Ella's child carer. Ella repeated her usual "yes, we're going to Melbourne to see Uncle Rick, aren't we Dad?''.
"We hear so much about Uncle Rick. Apparently he has a really big boat?'' the child carer said.
Julian then had to explain that the "big boat'' is actually the Spirit. The child carer had more than a little chuckle at that.
Due to the boat being so visible, there's been repeated requests we go to Melbourne on "Uncle Rick's big boat'' instead of the plane this time. However, there's a huge issue with that.
As I was telling Tina Gray on her post the other day – the post where she revealed a rather green looking version of herself on the Manly Ferry – I actually suffer the same disease. This is despite being the daughter of a rather keen trout fisherman.
I might add though, there's a big difference between fishing in a lake and fishing in the sea. Although, give me fishing from the shore and that will make me really happy.
Unless I don't catch anything.
I NEED calm seas when I'm on vessels of any size. The last time we went to Melbourne on the Spirit of Tasmania, I ran out of seasick tablets, followed by having a panic attack and then ending up in the single bed WITH The Bloke in The Shed.
Let's just say, he wasn't impressed! It was 27 degrees, there was no ventilation and me squishing him up against the wall just made things even hotter. And no, I don't mean in THAT way. There was nothing romantic about this scene at all.
Anyway, after all that, we've now debating whether to go to Sydney and Queensland too.  No boats, ahhh. If anyone would like to sponsor these trips, my bank account details are…
What's your favourite place to holiday? Is there somewhere our family should be visiting?