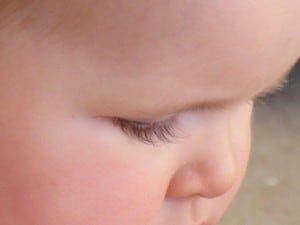 This week I'm grateful for:
Three-year-old Ella reminding me that after toast, an apple, mandarin and rice cake, it was really time for some "sometimes'' food. Apparently, cake or a biscuit would do. Yes, thanks Sesame Street. (Note; we ended up going a choc chip cookie).
Two-plus hours in a hairdresser's chair to get rid of the "grey highlights'', get a head massage and not be asked for food, nappy changes or to blow someone's snotils (aka, nostrils). OK, so it hasn't happened just yet, but I'll be grateful for that moment in the morning.
Baby Holly now full-on crawling. She sets her sights on something she wants (usually food or Dad's beer), crawls flat out to get it, then ends up nose diving into the carpet because her arms can't keep up with her legs. Too cute!
I'm joining with  Maxabella Loves to share what I'm grateful for.