WHEN I volunteered to write a post about
"me time'' for mums
, I thought how warm and fuzzy that exercise would be. Then I sat down at the laptop to write about my very last "me time'' moment. (
Insert long period of silence and fidgeting of fingers
).
Nine months of breastfeeding a bub has meant I've been busier than a mosquito at a nudist colony. "Me time''? What's that? I don't even get to go to the toilet alone. Sure, The Bloke in The Shed will argue I'm on the blog,
Twitter
,
Facebook
, Google+, LinkedIn, 10 email accounts and whatever else I can get my typing fingers on every night. I also had a bath a couple of weeks ago, complete with bubbles. Please, hold me back. The five minutes of bliss before three-year-old Ella came in to ask if I was "having fun'' was absolute heaven. She then proceeded to try and pop all the bubbles for me. How thoughtful.
In the early months of Baby Holly being born, I dashed out one Saturday afternoon for a
quick facial
. I say "quick'', because I had to return within the hour so I could line up at the dairy to be milked. I also have a
Mother's Day
voucher for a massage on the kitchen bench. The voucher's on the bench, not the massage.
During my REAL "me time'' (aka, breastfeeding at 4am) I often think about how I'd love to spend
a night alone in a hotel
, with the
spa bath full
, a bottle of
Dom Perignon
, girly
mags
and
DVDs
, an assortment of
Cadburys chocolate
and one full night of
uninterrupted sleep
. But truth be told, I'd hate to wake up alone, without hubby by my side and the girls wanting their morning cuddles and kisses. And whingeing because they're hungry and want their breakfast.
NOW
.
So then, what would make me happy? All of this… but at home. For now though, I'll just have to make the most of pretending to get rice cakes for Ella's morning tea, all the while dipping into
my secret stash of chocolate
at the back of the pantry. Shh, don't tell. By the way, if you want to know what to hide in your pantry, try the
Cadbury Dairy Milk Mousse
(RRP: $4.20) from Coles, Woolworths, SUPA IGA, Big W, Target, Kmart and other select retail outlets.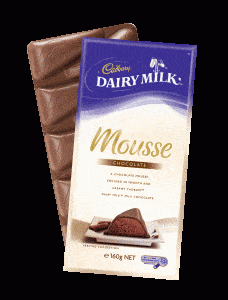 Would you like some "me time''? Of course you would. Then we have five "me time'' packs to giveaway to mums needing some pampering and well deserved "time out''.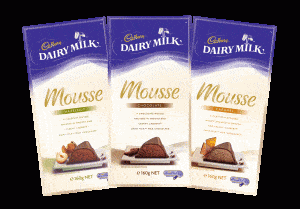 To go in the draw to win

one of five "Me Time'' packs

– featuring a block each of chocolate, caramel and hazelnut Cadbury Dairy Milk Mousse chocolate, an Ecoya candle, Palmer's body butter and a copy of The Devil Wears Prada – simply tell us your last experience of "me time''.  The giveaway closes Sunday, July 24 at 7pm and a winner will be drawn randomly and announced on this blog and via Facebook and Twitter. Australian residents only. Limit of three entries.
Want extra entries? Then here's how you can up your chances in the draw. Each task is worth one extra entry, but must be included as a separate comment (or it won't count).
Click the Facebook button below and share this giveaway with your Facebook friends. Then leave a separate comment saying something along the lines of "I've shared this on Facebook''.
Click the Twitter button below and share this giveaway with your Twitter followers (Twitter handle is @ThreeLil). Then leave a separate comment saying something along the lines of "I've shared this on Twitter''.
Check out our other giveaways.
Hosted by
Three Lil Princesses
and
Tina Gray {dot} Me