LONG-time readers may remember the Happiness Project I took part in, courtesy of Naomi from Seven Cherubs. She's now started another project, this time titled Cherish Your Cherubs. It will run over six weeks with a different weekly task – record, remember, interview, praise, write and affection.
The assignment for this week was to Record what your cherubs are like right now. Naomi posed some questions to think about before writing, but I thought I'd just answer those questions directly.
Here they are:
Ella, nearly four years old (just ask her), intelligent, funny and a giggle pot. She possesses great empathy and love towards others.
Her interests: singing, dancing and talking… lots of it!
What she likes: She is obsessed with ABC Reading Eggs, which is an online tool to help children from 4-7 years read. She was flying through it, until our free subscription ran out. Looks like I'll be subscribing!
What she dislikes: Baked beans.
Favourite food: Steak. Yes, expensive taste.
Favourite game to play: Snap, which is actually Fish. I taught her Snap, then called it Fish, now she refuses to accept it's not called Snap.
Favourite saying: Other than "I'm huuuungry'', she ends nearly every sentence with "OK?'' (said with a slight drawl) For eg, "I need something to eat, OK?'', "I need to go to the toilet, OK?''
Favourite song: Justine Clarke's I Love To Sing and Play School's Put Your Finger On Your Finger On Your Finger – just that particular verse… over and over again.
Favourite television show: Despite hearing quite a bit of "to your stations, Octonauts'', I am rather happy to say it's still ol' favourite, Play School.
Favourite book: This changes too frequently, mainly because we go to the library most Saturdays. Today it would be Hairy Maclary from Donaldson's Dairy.
Favourite friend: Definitely her baby sister. She loves her like she loves no other. As far as non-related friends, she has a bestie at school (aka child care) who she keeps inviting to come for a sleepover. When I ask where she'd sleep, she replies: "my bean bag''.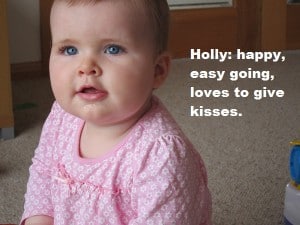 Holly, 10 months old, happy, easy going and pretty adept at meeting the physical milestones early. Loves to give kisses.
Her interests: Dancing and singing. Can you see a theme here? Already, she rocks it out when music plays and starts making a "ahhhh'' noise.
What she likes: Boobie juice and the sight of mum, dad or her sister first thing after waking up.
What she dislikes: Sleep… still.
Favourite food: Steak. Where do these girls get their taste from?
Favourite game to play: Peek-a-boo.
Favourite saying: "Dad dad''. Although, I am proud to add that today (what timing, hey) there was a clear and distinct "mum''. Yay!
Favourite song: When her sister sings Put your finger on your finger on your finger.
Favourite television show: OK, so she's not old enough for TV just yet, but she has been known to become a little glued to the box when Toy Box comes on.
Favourite book: Growl. Eeerytime the word "growl'' is read, she responds with "grrrr''. Cute.
Favourite friend: Her big sister. Clearly. Apart from when she gets in her face too much and then she doesn't want a bar of her.
What traits do you love about your cherubs? Can you relate to any of the above?
Read more Cherish Your Cherubs: Record posts.