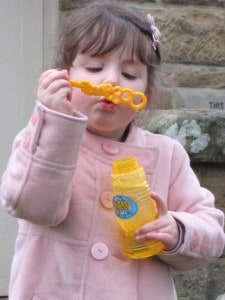 OUR parenting style is a mish mash of techniques from the thousands of parenting books we own. Did we really need that many? Part of it is positive reinforcement. We praise good behaviour and (try to) ignore bad behaviour.
So when I read that Naomi from Seven Cherub's Cherish Your Cherubs project this week was to "praise'', it seemed a pretty simple task for me. This week's task is a follow on from Week 1: Record, Week 2: Remember and Week 3: Interview.
Our weekend was spent in Hobart, primarily to attend a wedding. Here are some of the highlights of Princess Ella's good behaviour and reasons to praise:
We went shopping on Friday and Ella patiently waited the five minutes until the Cat and Fiddle Arcade clock began to play. After her little happy dance, I gave her Praise: "Well done for being so patient, darling.''
We then happened upon a David Hamilton puppet show. We had to wait 15 minutes until it began. Ella sat near the front of the stage and, again, patiently waited. She even befriended another little girl and offered her one of her stickers. Apparently, "she said she didn't want a sticker''. Praise: "That was such a lovely thing to want to share your stickers with someone else. I'm so proud of you.'' (She even got an ice cream for being super special).
Saturday morning we walked through Salamanca Market with friends, followed by the littlies taking turns blowing bubbles in the park. They also picked tulips from the public garden. Whatever you do, don't tell the Hobart council gardener. Praise: "You played so wonderfully with your friends.''  
Saturday afternoon was the wedding. Ella sat quietly with her auntie during the entire ceremony. Apart from the "why is he crying?'' when the groom made his vowels and the "I'm an O'Brien too, aren't I?'' when the celebrant asked us to "welcome the new Mr and Mrs O'Brien''. Praise: "Good girl for sitting quietly during the wedding. You did a great job.''
That night and the next morning, Ella got to spend time with her auntie, uncle and teenage cousins at the hotel. When the two female cousins spotted Talkin' 'Bout Your Generation team captain and comedian Josh Thomas, Ella helped their cause of attracting his attention by yelling out: "hello?''. It's fair to say, her cousins turned a little pink in the cheeks after that effort. Praise: "Teeheehee.''
I might add that, due to being so overtired when we got home, her night last night didn't end well. Usually we have lovely books, songs, a couple of jokes and the all-important kisses and cuddles before she lies her head down. Last night, it ended with a simple "I love you'' from me and lots of crying from her. It's pretty rare for this to happen in our house, but just goes to show we can't win `em all.
What have you praised your child for today?