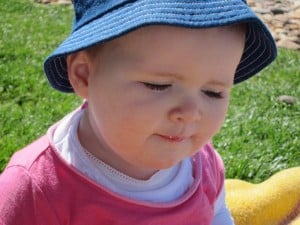 IF YOU stalk me on Twitter or Facebook you will know Baby Holly did something pretty special on Sunday night. I'm talking Bruce McAvaney "speeeeecial''. Sorry, but it is AFL grand final week. Baby Holly managed to sleep an entire 10 hours. Ten.straight.hours. If you were here right now I'd be going the full-on chest bump. Although, beware: the two girls do leak.
The one downside was at 3.30am when she stirred slightly, I remained awake until she finally rose at 4.50am. I know, not exactly my idea of a good time to start the day but, after 10 hours straight, I'm not complaining… yet.
At 3.30am, I got up and did a whizzer, had a drink and then snuggled back up to The Bloke in The Shed. Sure, his loud breathing and occasional snort didn't help, but I just couldn't escape back into that dream where George Clooney and his pig move in. Yes, highly unrealistic. His pig's dead.
Sleep eventually returned after Princess Ella finally learnt that midnight disco parties aren't fun after a year of them, so I know it won't be forever. I just can't remember how long it took or whether there were any tips to fast-track my way to sleep.
If you know the answer, please do tell.
PS. I'm writing this last night, so I have my fingers crossed I haven't just jinxed myself and get up to her three times during the night – as per usual.
PPS. Daylight savings starts this weekend, so now is a good time to start getting the kids to bed 15 minutes earlier each night. Then, by the weekend, they'll be well adjusted. And 4.50am will be a more respectable 5.50am!