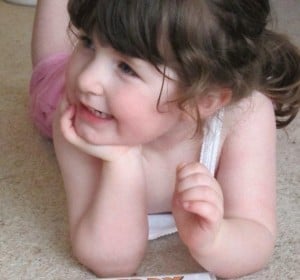 "Booooooooooooooooooooooooooooo,'' she said. I know you haven't lived as a father until you have been booed relentlessly by your own three-year-old daughter.
She wasn't mucking around either. "Boooooooooooooooooooo,'' said Princess Ella in the back seat of the car. The boos were loud and continuous and in fact lasted from the time I picked her up from childcare till the time we went up the driveway at home. I'm not even exactly sure where she learned to boo.
Okay, explanation. Ella had been looking forward to her little sister, Baby Holly, spending some time with her at childcare. You see, as Holly's nearly one, we're slowly introducing her to childcare with an eventual view to her spending at least one day a week there.
Doing my bit, I dropped Ella off at childcare in the morning and travelled to my workplace in another city, while Princess Kel was to take Holly in later. Hours later I got a call from a frantic Kel, who'd been searching the house high and low for her car keys, only to then discover I'd taken both sets with me inadvertently.
A decision was made and due to my work commitments, Holly would not be going into childcare that day and was housebound. Needless to say, Ella was less than impressed when I explained to her what had happened on picking her up from childcare. "Booooooooooooooooooooooo,'' she said. Yep, dad was in the poo with both mother and daughter.
Ella is immensely proud of her sister and loves to show her off to her friends at childcare and she was clearly upset dad had ruined her chance at gloating. Therefore, I know I deserved the "boooooooooooooooooo''. Oh well, I know it probably won't be the last time I deserve it.
 Have you ever been booed by your children? Or worse?
Linking up Shae from Yay for Home's Things I Know.