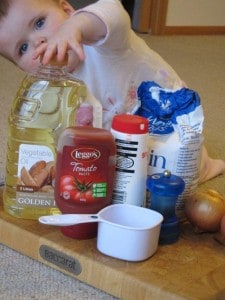 THERE'S one thing I'm thankful for when it comes to this blog. Sure, it may take up far too much of my wife's time, but it's come in rather handy for storing our fave recipes. Kel's uploaded what she calls her ultimate dish – Smoked Salmon and Tomato Pasta – and I've got my Choccie Hot Cross Bun and Butter Pudding. Yep, I'm a hit in the house with that one.
One of my new favourite recipes is gravy. How To Make Gravy was a sensational song by one of my all-time favourite artists Paul Kelly. The recipe inside the song was quite involved. I'm sure it would have been delicious though.
There's nothing more I love than a gravy built using the juices from the pan, but when you want an easy gravy for a once-a-week steak night and either don't want or don't have any gravy powder, this is a recipe I stumbled upon.
Every time I want to make it, I can't seem to find it again. So, here it is. Forever etched in the pages of this blog.
PS. It's surprisingly delicious.
Ingredients
1 large onion (cut into thinly sliced onion rings)
1 tsp salt (more to taste if wish)
1/2 tsp cracked black pepper
1/4 cup cooking oil
3 tbs flour
2 1/2 cups water
1 tbs tomato paste
Chopped chilli to taste could be added (if you were eating without the kids).
Method:
Heat the oil in a large frying pan over a medium to high heat and when hot add the flour. Make sure flour is well mixed.
Add the onions. Cook till the onions are golden brown (not black) and coated in the now crusty flour-oil mixture. Might take five or so minutes.
Reduce heat to medium. Add a tablespoon of tomato paste and mix well for a 15-20 seconds (if you want chilli, add it now too).
Now add water, salt, pepper. Bring to boil then reduce to simmer.
Simmer, stirring regularly until you reach your own desired consistency. Add more salt if required. Drain the contents of the pan through a sieve into a bowl, dispose of the onions and there you have it. Or keep the onions in it and you have onion gravy (Princess Ella is not a huge fan of onions yet though).
We've even substituted barbecue sauce for the tomato paste when out of the latter with similarly delicious results (just up the quantity a little though).
This easily serves four or five. If feeding more just up the quantities. Enjoy.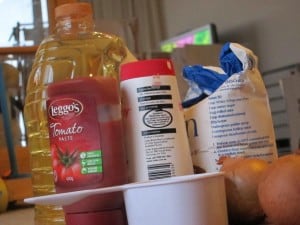 What's your favourite recipe? Do you make your own gravy from scratch?
Linking up with the lovely Kate Says Stuff's Thankful Thursday. Click on the link to find out what others are thankful for this week.