FORCED to stay indoors due to falling under the spell of the snotty-nosed monster last week, we three princesses were thankful the wonderful Christie Burnett of Childhood 101 had sent through issue one of her inspiring Play Grow Learn playzine to review.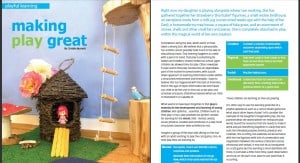 Most of you already know who Christie is. But, just incase your internet connection's been down for the past two years, Christie's a mummy blogger and early childhood educator. Her blog Childhood 101 has become our regular haunt. What appeals most is its focus on learning through play – it's this point that was the clincher for the school we've chosen for Ella. So it's easy to see why the quote:
"What seems to have been forgotten is that play is essential to the development and learning of young children. Not optional…essential''.
from the playzine stood out for me.
Each article provides enough information to answer the "why'' behind each play activity, along with detailing the actual play ideas themselves.  The only point I'll make is it's probably best to set aside some time when you're minus children to read it. Or you could inadvertently become hooked on an article, prompting someone to get rather impatient with you.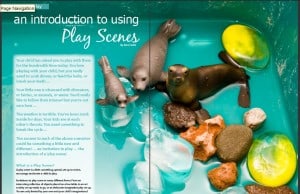 Some of the highlights for us (and particularly Ella) were:
The full-colour printable set of Snap cards. Ella asks to play Snap endlessly, so the opportunity to have a special set of cards is all too exciting.

The photo of the magical play space. This one set imaginations running wild. Guess what we're doing this week?

With the arrival of Spring, there's seven pages of outdoor play ideas.

The 30-plus baby play ideas have been particularly useful for Baby Holly and I on those days when Ella is in childcare.

The Playing with Maps article. Our family became close to a Swedish exchange student, who has only just returned home. Ella has a fascination now with knowing how far away he is in relation to her grandparents in the next town over. It was a great reminder that we need to get her a map to enhance her geographical knowledge.

Eight classic play ideas that take less than 10 minutes to prepare – perfect for a particularly impatient little girl.

The article on Creating Memorable Birthdays. With both girls marking birthdays in the next two months, this article was particularly useful. There are some fabulous ideas I'd like to implement for the girls' big days.

A quick no-sew superhero cape tutorial. Need I say more.
Beautifully photographed and designed, it also combines the writing talents of some fabulous mums and teachers, including:
The incredible part about the whole thing is it's a meagre $4. Yes, only $4 for 62 full-colour pages of indoor and outdoor play ideas for children from birth to five years. When getting to a newsagency to buy a magazine becomes less likely, this is a perfect alternative.
For more information, visit the Play Grow Learn page. You'll be thankful you did.
Linking up with the lovely Kate Says Stuff's Thankful Thursday. Click on the link to find out what others are thankful for this week.