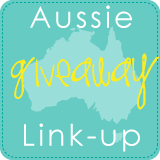 THIS week I was asked if I could produce some photos of myself for a business thingy related to my Mum PR biz. Yep, that's about as much as I'm going to tell you. Anyway, there was a bit of a contest going on between The Bloke in The Shed and Princess Ella as to who could take the better shot.
The Bloke in The Shed was rather impatient and just wanted to get inside to cook his steak. Ella, on the other hand, just kept clicking. She had all the photography poses going on and comments like: "Just back a little bit more for me'' and "That's it. Now smile''. She's not yet four.
Anyway, here is the end result:
I think I may need some professional help! What do you think?
Anyway, let 's get down to some more serious business – giveaways. If the links are up, then start clicking for your chance to win some great prizes.
If you're a blogger or business wanting to take part in the Aussie Giveaway Linkup:
Only link directly to the giveaway post/s and include the prize and end date in the linky tool below. Link each giveaway separately.
Giveaways must be open to Australian residents.
Grab the NEW button to add to your post.
A new list is added each Sunday so bloggers need to add their links weekly.
Start entering the giveaways!

Hosted by Three Lil Princesses