YOU may have passed me in the street this week and not recognised me. You see, I've been donning a new face.
A slight improvement on the old one.
Garnier sent through its version of the new worldwide beauty phenomenon, BB Cream. Theirs is called Miracle Skin Perfector BB Cream. If you haven't heard about BB creams yet, it stands for "Blemish Balm'' or "Beauty Balm''. Having seen so many beauty trends come and go, this one grabbed my attention because there's some history behind it.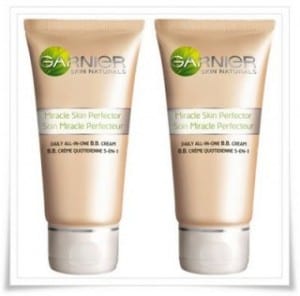 BB creams were developed in the '50s to soothe and heal a patient's skin after surgical procedures.  It took off in the late 2000s in Korea and became the beauty secret of its film stars. It's now quickly spread through the UK, US and finally Australia.
Miracle Skin Perfector combines skincare with makeup. How easy will your morning skincare routine be now? The skincare is made up of anti-oxidant properties and Vitamin C to boost the skin's natural glow and radiance.
After a week and a half of using it, what do I think?
Someone said it was more like tinted moisturiser, which left me a little sceptical. I'll admit, I need better coverage than that these days. We'll thank sleep deprivation for finally catching up with me. But it couldn't be further from the truth. It's given me great coverage without being heavy thanks to mineral pigments for natural coverage.
It claims to deliver five instant benefits – 24 hour hydration (yes), even skin tone (my complexion does look better), corrects blemishes (even the pigmentation under my eye is looking better), boost radiance (I'm glowing!) and SPF protection (well, yes, obviously).
The product could be improved by increasing the SFP 15 to 30. Our sun is too harsh.
Interestingly, for my combination skin at least, it's not too oily or drying. It's quite creamy and is really easy to apply.
When I'm wearing it, it lessens the lines around my eyes and mouth. Well, my deep canyons look more like ravines, anyway. Unfortunately, I lucked out on simple "fine lines''.
There are only two shades – light and medium. More shade options would be better for busy mums who may require mixing the two shades to get the right match. Fortunately, the light shade is perfect for me.
I was impressed by the longevity of the coverage.  It stayed on… all day! I tend to see foundation slide off my nose by late afternoon. Although, I am still wearing a concealer underneath. I've yet to find a product that hasn't required me to do this.
It's only $13.95. Really?  I'm not even going to reveal how much I'm spending on skincare and foundation at the moment. I'm starting to wonder why I'm paying all that money.

It smells divine.

I love the idea that while there's an immediate cosmetic effect, there are long term benefits as well. I'll be keen to see how my skin transforms over a longer period.
The Garnier Miracle Skin Perfector – BB cream (RRP: $13.95) is available at Priceline, supermarkets, pharmacies, independent and variety stores. You can also find out more about the BB cream at www.garnier.com.au and on its Facebook page.
Would you like to try it? Well, Garnier have teamed up with Three Li'l Princesses to giveaway 1 x Garnier Miracle Skin Perfector BB Cream Light AND 1 x Garnier Miracle Skin Perfector BB Cream Medium to 10 – yes 10 – readers. For a chance to win, simply leave a comment telling us the best beauty tip your mother/grandmother passed on to you. The giveaway closes Thursday, October 6 at 7pm and a winner will be drawn randomly and announced on this blog and via Facebook and Twitter. Australian residents only. Limit of four entries.
Want extra entries? Then here's how you can up your chances in the draw. Each task is worth one extra entry, but must be included as a separate comment (or it won't count).
Click the Facebook button below and share this giveaway with your Facebook friends. Then leave a separate comment saying something along the lines of "I've shared this on Facebook''.
Click the Twitter button below and share this giveaway with your Twitter followers (Twitter handle is @ThreeLil). Then leave a separate comment saying something along the lines of "I've shared this on Twitter''.
Follow me on my new Google Friend Connect button over there in the sidebar and leave a comment telling me you're now a follower.
**DISCLOSURE: I received a complimentary Garnier Miracle Skin Perfector BB Cream Light and 1 x Garnier Miracle Skin Perfector BB Cream Medium for review. All opinions expressed are purely my own.
Check out more giveaways in the Aussie Giveaway Linkup.


Hosted by Three Lil Princesses