WE'RE doing it Mary Poppins-style with a little giveaway we're calling These Are A Few Of Ella's Favourite Things. Mainly, it's things Princess Ella has loved that brands have sent through. Yes, she is one spoilt little princess. Come her birthday, she's going to be a little blasé about the gifts we've given her.
Among the products Ella is loving are the Tiger Tribe Boxset Beach Villa from Cadootje and Tiger Tribe, a Hallmark Recordable Storybook of Winnie the Pooh, Stephen Joseph Gifts  accessories, Rhys Muldoon's latest album and Teddy Rock's new CD and DVD.
Tiger Tribe Boxset Beach Villa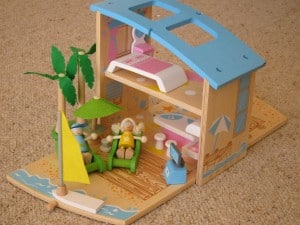 With her love of doll's houses already evident, Ella's eyes lit up when she spotted the Tiger Tribe Wooden B0xset Villa with summer approaching, this one is going to come in particularly handy when travelling.
This ingenious two-storey beach house, aimed at the 3+ age group, packs away into its own box making it portable and compact. It's stylish and wonderfully designed using  eco-friendly birch plywood. Ella was particularly taken with the art work, including crabs, waves, decks and little windows.
It also comes with a host of accessories. The boy and girl (dubbed Jackie and Wacky by Ella)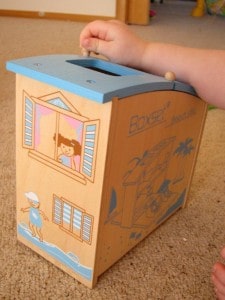 are made using wood and bendable rope arms and legs. Rope is also used to easily fasten the box shut. Plywood and felt are combined for items like the wind surfer, beach umbrella and sun lounges, which add to the painted wooden kitchen, bedroom dresser and bed. It certainly has one little girl – and her mum's – imaginations running wild.
The only downside for us is some parts being a choking hazard for Baby Holly. Overall, I'm incredibly impressed and quite keen to check out the other box sets and box extensions.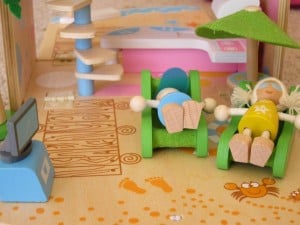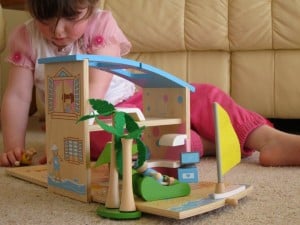 Favourite part: Sunnies and hat-wearing girl and boy, now named Jackie and Wacky. Valued at: $59.95.
You can find more about Cadootje on Facebookor Tiger Tribe at www.tigertribe.com.au and Facebook.
Hallmark Recordable Storybook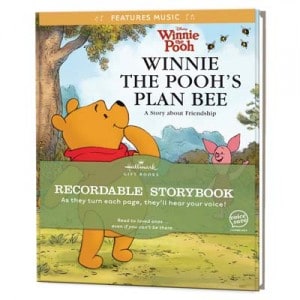 Since The Bloke in The Shed has taken on his new job, it means he's more often missing out on one of our favourite parts of the day – bedtime books. However, we've now found a way for the two li'l princesses to not miss out on hearing their dad read to them. It's our Hallmark Recordable Storybook.
We were given a copy of Winnie the Pooh's Plan Bee: A Story about Friendship. I would have been more than happy to keep the calming demo voice and beautiful background music already programmed into the book. However, the opportunity to record our voice reading it was too great to pass up.
I'm particularly taken with the illustrations which, as is typical of all Disney releases, are beautifully done. The hardcover book also features a wonderful message about friendship and what it takes to be a good friend as Pooh goes about trying to be a bee.
While each page is recorded separately, the downside is Ella changing the pages too soon during reading and cutting off the recording. This means we have to start from the beginning for that particular page.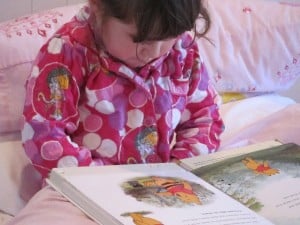 Favourite part:  Ella said it was when Pooh endeavours to fly (although, she didn't use the word "endeavours'' obviously). Retails for $34.99
You can purchase the book, and the other titles such as Lightning McQueen and his Winning Team, via Hallmark Australia www.store.hallmarkcards.com.au, with all orders shipped out within 48 hours.
Stephen Joseph Gifts: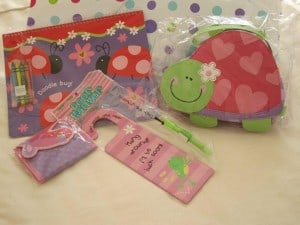 Each day Ella changes the message on her new rewritable door hanger on her bedroom door. Some days it says "good morning'' and others "stay out''. I might add these are merely just a series of random letters and squiggles, but she assures me that's what it says.
The door hanger is from Stephen Joseph Gifts, featuring colourful children's accessories for children aged two to eight. She also received a beautiful drawing pad with crayons, a turtle Go-Go purse and matching coin purse.
This is a seriously cute range, with high quality and, most importantly, safe products. The accessories also come in a number of coordinating designs, so you can mix and match to your heart's desire. They include butterflies, ladybugs, robots and trains.
The purse has been a lovely place to put the $2 coins her Nan keeps giving her. It fits snugly inside the bag, which was perfect for her to take to a wedding we attended two weeks ago. The ladybug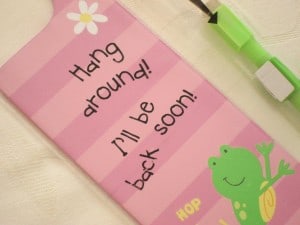 notepad with crayons helped during the long, boring trip south to that same wedding.
Stephen Joseph Gifts includes backpacks, lunch bags, stainless steel drink bottles, photo frames, raincoats, handbags and sunglasses. I'm so taken with the designs behind the gift ideas, I'm already eyeing off quite a few items for Christmas.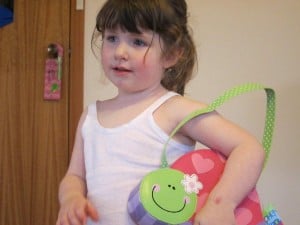 Fave part: Door hanger she can write messages on and rub out daily. If only we knew what those messages were. Pack retails for $77.85.
You can find more and buy Stephen Joseph Gifts at www.stephenjosephgifts.com and connect on Facebook and Twitter.
Rhys Muldoon and Teddy Rock CDs and DVD: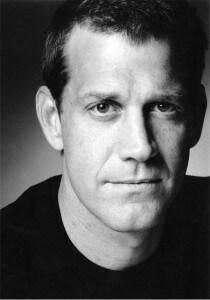 Despite my favourite CDs collecting dust, I'm still pushing for the princesses to listen to a variety of genres – even if it is still all kid based. So the past week we've swapped our pretty pop music for down and dirty rock courtesy of Play School favourite Rhys Muldoon's I'm Not Singing and Teddy Rock's Nursery-wave Party!
I'm Not Singing is TISM meets Play School. Start with Kram from Spiderbait as your co-writer/producer, add guest vocalist Tex Perkins, some tongue-in-cheek lyrics and yep, Rhys' album ain't for the faint hearted. Except that Ella loves it – every head-banging moment. She's lured by the silliness, catchy tunes and mention of… bodily noises. Along with punk-style Footy Dad, her favourite is the rockin' Bob the Bear, with the well chanted line "who, who, who did a poo?''. The Bloke in The Shed is likely to be listening to this one even without the girls in the car.
Teddy Rock is kids' music with the cool factor. Expect nursery rhyme favourites like This Old Man and Twinkle, Twinkle turned up a notch with Buzz, Belle and Bop.  We were given the 24-track CD and 18-track DVD to review and were taken with the rockin' Incy Wincy Spider. It's the same old lyrics, but the tune is just a little hardcore. I should have broken out the leather jacket for Ella. While both albums caused plenty of laughter, beware: they are best enjoyed in small doses.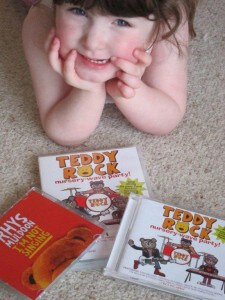 Favourite part: Ella just can't get past the "who, who, who did a poo?'' lyrics from Rhys' Bob The Bear track, especially right after Baby Holly has done her business. CDs retail for $19.99 and DVD $27.99.
Learn more about I'm Not Singing at www.abcmusic.com.au and follow Rhys on Facebook. Learn more about Teddy Rock at www.teddyrock.com
To go in the draw to win a Tiger Tribe Boxset Beach Villa, a Hallmartk Recordable Storybook, Stephen Joseph Gifts pack (drawing pad, handbag, door hanger  and kids tote), Rhys Muldoon's album I'm Not Singing and Teddy Rock's Nursery-wave Party! CD and DVD OR the runner-up prize of a Hallmark Recordable Storybook, leave a comment telling us what are some of your child's favourite things. The giveaway closes Monday, October 17 at 7pm and a winner will be drawn randomly and announced on this blog and via Facebook and Twitter. Australian residents only. Limit of three entries.
Want extra entries? Then here's how you can up your chances in the draw. Each task is worth one extra entry, but must be included as a separate comment (or it won't count).
Click the

Facebook

button below and share this giveaway with your Facebook friends. Then leave a separate comment saying something along the lines of "I've shared this on Facebook''.
Click the

Twitter

button below and share this giveaway with your Twitter followers (Twitter handle is @ThreeLil). Then leave a separate comment saying something along the lines of "I've shared this on Twitter''.
**DISCLAIMER: I received review copies of all of the above. All opinions expressed are purely my own.


Hosted by Three Lil Princesses