AFTER a hectic day riding her bike, picnicking and seeing how many ways she could throw herself down a slide (oh, it can be tough being a preschooler), Princess Ella needed something to settle her  before dinner. Actually, she just needed something to settle her full stop.
It seemed the perfect opportunity to download the free CBeebies On The Go app via The Bloke in The Shed's iPhone.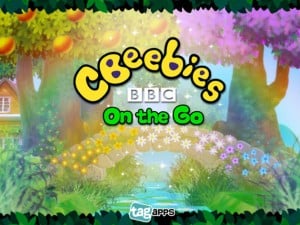 The look on his face was akin to a dog whose bone was taken away from it, never to be seen of again. He had every reason to worry.
I'd barely finished explaining to Ella what to do and she was confidently flicking and tapping the screen like a pro. Perfectly pitched to the (nearly) four-year-old princess, it features games and short video clips from its popular shows, including one of her favourites, Charlie and Lola. Among the games are Teletubbies matching pairs picture game and Kerwhizz jigsaw game.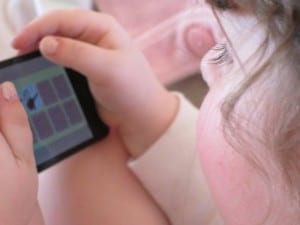 Ella's favourite was the 3rd & Bird tap-the-fruit challenge, mainly because it inspired so much excitement as she tried to tap the fruit before it passed across the screen. The puzzles were quite challenging for her to begin with, until we realised the idea was to click on the two images you wanted to swap, instead of sliding them.  Once she got a handle on this, the puzzles became much easier.
Her favourite video was by far Big Cook Little Cook – who can refuse decorating a chocolate train cake? She watched this five times!
I was particularly drawn to the Get Squiggling program. I love the idea of drawings coming alive, further fueling their imaginations when it comes to creating their own Van Goghs. As far as the games, Number Jacks was an opportunity for her to start recognising the difference between a 6 and a 9 by listening for the number and then matching it with one on the screen.  I've already seen an improvement thanks to this game.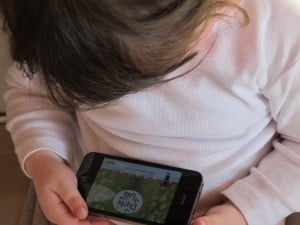 It's this mix of being hugely entertaining, while still learning vital information for her age that makes this so appealing. There's great variety, so little chance of becoming bored easily. It would have been particularly handy during our recent trip to Hobart, where a lot of patience on Ella's part was required. And mine, I might add.
My only concern is the short videos could wear thin if on repeat. However, in all, this brightly coloured, easy-to-navigate app from BBC Worldwide is a wonderfully entertaining and educational app from a trusted brand.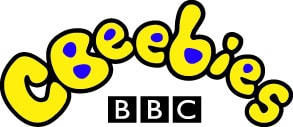 The CBeebies On The Go app is now live at ITunes and FREE to download on an iPhone, iPod touch and iPad. The CBeebies channel for kids is on Foxtel and Austar.
What's your child's favourite CBeebies program? Have they tried the CBeebies On The Go app? What other apps would you recommend for preschoolers?
Disclaimer: I am being paid by Kidspot to write this post in order to review the CBeebies On The Go app. However, all opinions are my own.