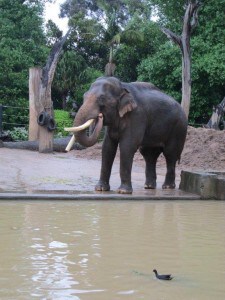 WHEN I say thrifty, I'm talking about Thrifty Car Rental, which set us up with the Black Beast during our family holiday to Melbourne last week. They gave us a roomy Ford Falcon XR6 (it was meant to be a Hyundai i45, but I'm starting to get over that), a GPS (which was introduced to some rather colourful language from The Bloke in The Shed), a fuel card (yet we didn't even use half a tank!) and they took care of my tolls (when asked what tollways we used we just shrugged our shoulders. There are no tollways in Tasmania. In Tassie, we'll pay you to use our roads).
As part of this post, I thought I'd show you where the Black Beast took us to inspire you on your next Melbourne visit. Digital Parents Conference, anyone?
You'd think this post would start with a lovely family photo of us standing around the Black Beast, right? Well, unfortunately the Beast was a tad camera shy. Or, quite possibly, we forgot to actually take a photo in all the excitement. Instead, here's a photo I stole from Ford.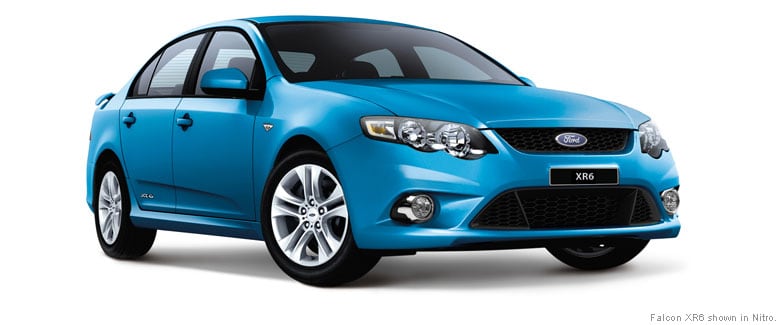 And now, here's what I know about what to do with kids in Melbourne:
Thursday: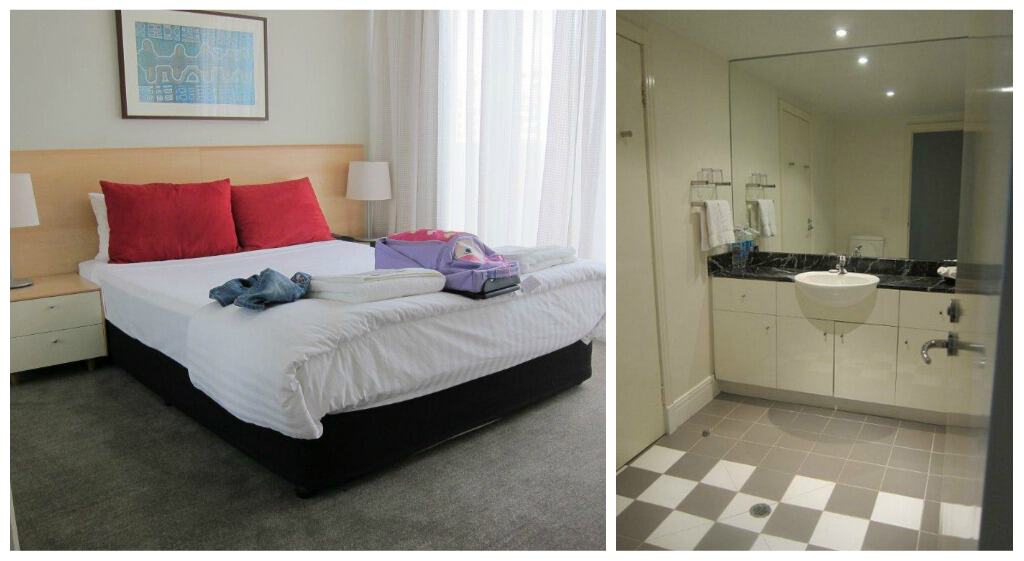 At the Melbourne airport we picked up the Black Beast from the Thrify Car Rental desk, completely fitted out with blue child car seats, in what was a no-fuss experience and headed straight for… shopping. We've taken in most DFOs and shopping precincts and the relatively new South Wharf DFO has been among the best. In the afternoon we princesses spent some downtime in our perfectly located hotel, Medina Executive South Yarra. The Bloke in The Shed took to the hotel gym. Our two-bedroom unit was incredibly roomy and Ella was chuffed at her BIG bed. We were surprised by how close it was to everything we needed access to, including the Royal Botanic Gardens. We had a picnic dinner with the Claire family, with so much space in the gardens it's hard not to find a secluded spot for yourself.
Friday: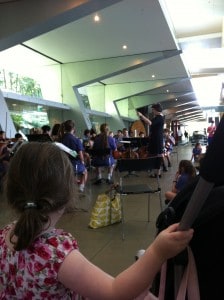 While the Kids Business Bloggers Brunch was only a few blocks from our hotel, the GPS went into a tizz when it tried to take us down a few closed streets. Thankfully, with the temperature reaching 34 degrees, the Black Beast's air con prevented us from going into a tizz. Once I finally arrived at my Prahran destination, The Bloke in the Shed and the two princesses headed to the air-conditioned Melbourne Museum. While hubby said the children's area was good, Princess Ella (4) was apparently more interested in the general section. In the afternoon, the Beast lured us to Prahran Market where I fell in love. And I'm not talking about the fact we saw Russell Gilbert. The array of food – and the quality – was too much temptation. It's not the sort of thing you'd spend a lot of time at, especially with kids, but if you've got the ability to cook in your hotel it's well worth it. That night we dined at a café on Toorak Rd.
Saturday: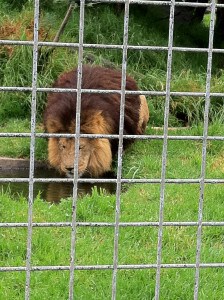 We detoured via St Kilda (yay GPS!) to pick up my brother and then headed straight to the Melbourne Zoo. You can read the full review about how much we enjoyed ourselves. That night we over indulged on the yummy delights we'd picked up at the Prahran Market.
Sunday: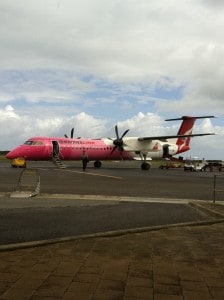 Our flight left at 8.30am, so we preprogrammed the airport into the GPS the night before. At the airport carpark, Ella turned to me and said: "Can we take our car home with us, Mum?''.  Sure, why not. I'll pack it in with our luggage (which had already reached its limit after the Bloggers Brunch goodies). As we headed out of the terminal to board our Qantaslink flight, it felt like all the spoils of our holiday were now behind us. Then we were presented with the above Dash 8. Yes, a pink one. Ella, again, thought the airport had turned it on especially for her. We're not about to ruin her fun.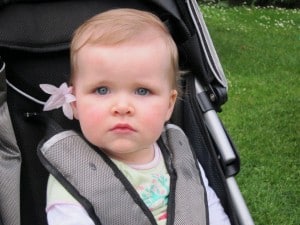 What would you recommend we do next time we visit Melbourne?
Linking up Shae from Yay for Home's Things I Know. Make sure you click to learn what others' know.

DISCLOSURE: We received a car, GPS and fuel card from Thrifty Car Rental. We received a two-bedroom room at Medina Executive South Yarra at a media rate. All opinions expressed are my own.