T is for twins. Can you see the T?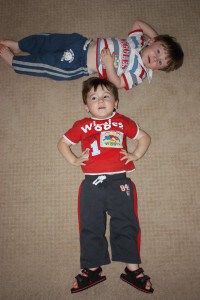 By Elisha Squire
I have loved taking photos for as long as I can remember. My husband jokes the kids will remember me mostly for always having a camera in my hand. I have five beautiful children, who are over me taking photos – even my seven-month-old looks away. One of the happiest days of my life was the day I got my Canon DSLR. Happy to report my now 10-year-old daughter is following in her mother's footsteps
Don't forget to head on over to the Alphabet Photography Challenge page, where you'll find a series of "look and find" photographs to help your child learn the alphabet.
Linking up with My Little Drummer Boys' Wordless Wednesday. Click on the link to check out more photo posts.