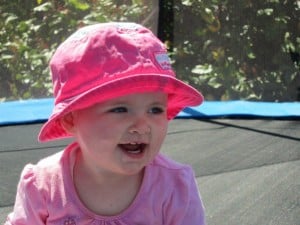 THIS week I'm grateful for:
Marrying Daddy: Princess Ella was particularly upset on Wednesday, because she "wanted to marry her daddy''. "I don't want to marry anyone else,'' she said, with real tears streaming down her cheeks. Over the past few months she's been keen on marrying the boy she goes to childcare with. The reality of being locked into a loveless marriage for the rest of her life had obviously sunk in. I tried to explain that we don't marry our daddies (no, Tassie jokes, OK!) and that it would be a long time before she'd have to worry about that anyway. After more tears and more "but I just want to marry Daddy. Please?'', I'm grateful The Bloke in The Shed stepped in and agreed to marry her. Ah, to be that innocent again.
Parenting Line: I didn't post earlier today. Did you notice? You see, there was a bit of an incident last night that I have been scolding myself over. Li'l Holly was in her cot, waving her dummy at me, while I tried to get her white noise CD playing. I couldn't get it to work with my toe, like usual. The next thing: THUD. Then loud, piercing screams. When I turned around, to my horror, she'd fallen out of her cot and hit the floor hard. The rest of my night was spent having to wake her regularly to check she was OK. I'm ever so grateful she is and that the Parenting Line was there to reassure me. However, I'm also upset with myself that I would do something so stupid as to leave the cot side down and turn my back. Just when you think you've done an incredible job of keeping your children safe, a split second can change everything. There's (some) comfort in knowing I'm not alone. But still…
B1 and B2: In happier news, thanks to the Bananas in Pyjamas, there's been much hilarity in our house this week. Out of the blue the other night, Ella asks: "Do you know what I'm thinking, B1?''. I responded with: "No, I don't , darling'' and was promptly told that wasn't the right answer. I tried again. "Yes, I think I do, B2''. It's at this point we have to try and see if we're thinking the same thing. The combinations have been absolutely ridiculous. Apart from the time we were both thinking about chocolate.
I'm joining with Maxabella Loves to share what I'm grateful for.