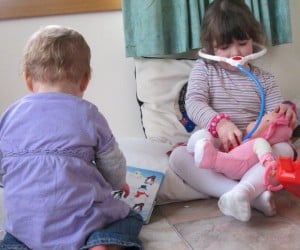 THIS week I'm grateful for:
Meeting other bloggers: I went all the way to Radelaide just to have breakfast this week. Breakfast with some fabulous bloggers, I might add. This bloggy thing is better than journalism, I swear. I'd swap cocktails with Jason Donovan for breakfast with bloggers any day. Especially ones as lovely as these.

Princess Ella's 4

th

birthday:

We are back in birthday mode… again. It never stops at this end of the year. When Ella discovered her "party'' would be with grandparents only tomorrow, she started crying. "I don't want the nans and pops to come,'' she said. I asked her why and she said: "I just want (insert teenage cousin's name) to come.'' A few quick calls and it seems now she's having a "real party'', complete with grandparents AND her cousin. Very grateful to her cousin.

An all clear at the dentist: Thankfully, when the girls had their checkups at the dentist yesterday, they were both given a big tick (or a sticker, at least) for good care of their baby teeth. Ella even got to ride in the chair. Although she was slightly underwhelmed. "It wasn't very fun, Mum,'' she said. "Why?'' I asked. "It didn't go to the ceiling.'' Looks like a trip to the Gold Coast might be in order.
I'm joining with Maxabella Loves to share what I'm grateful for.