I know. What a bizarre title for a post. But you will be amazed by this story. Seriously. Forget Kim Kardashian, this will be your water cooler topic for the day. I'm still totally in shock myself.
You see, after writing about The Bloke in The Shed's new Dyson and my excitement at the thought of him using it, I got sick of the wait and decided to just use the darn thing myself. The girls hate loud noises, so vacuuming tends to never happen. That's my excuse, anyway. However, when my Mum came around yesterday, I thought it might be a good opportunity to get the three living areas treated with the Dyson, at least.
This was the end result for its first outing.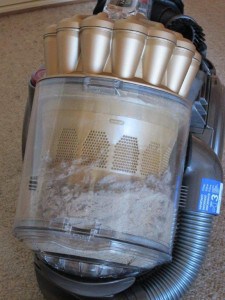 That's from only THREE rooms.
What on earth have we been living in all this time? Kind of says something about the quality of our last vacuum. I'm ever so thankful for our super sucking Dyson.
Do you have a Dyson? Has your vacuum ever captured this much dust in ONE go and flawed you as much as this has me?
Linking up with the lovely Kate Says Stuff's Thankful Thursday. Click on the link to find out what others are thankful for this week.