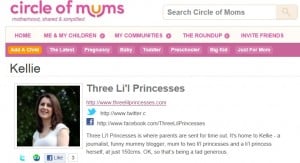 I HAVE never been regarded as the most popular girl in the playground. So why the heck did I put myself into a blogging popularity contest?  
Initially I decided not to enter the Top 25 Aussie Mum Blogs. Really, what was the point? Then I noticed some of my fave fellow bloggers had and I thought I'd look silly by not doing it. (Great logic there). So I clicked the button and typed in www.threelilprincesses.com. That was followed by a slight panic attack and visions of being picked last for the school Tee Ball team.
Since then, I have been blown away. I have no idea who you are, but thank you for voting. I'm at No. 33 at the time of writing this. Looking at those above me and just below, I figure my run will end soon. And that's OK. As I said, I'm no Miss Popularity. And I've always been OK with that too.
My goal is simply to keep voting for the bloggers I love and who I think deserve a bit of recognition for their efforts. I hope you'll join me in doing the same.
Regardless of your opinion of popularity contests (they're crap, yes!), we all know how good it feels when someone gives us a pat on the back. Like everything, blogging has its good days and bad days. Your vote could help make an Aussie mummy blogger's day.
So I want to know: who are you voting for? What are your favourite blogs and why?
Then, of course, it's time to put yourself in the running for something special too, by clicking on the links below.
If you're a blogger or business wanting to take part in the Aussie Giveaway Linkup:
Only link directly to the giveaway post/s and include the prize and end date in the linky tool below. Link each giveaway separately. If you need to delete it, hover over your link, wait until the red "x'' appears and click.
Giveaways must be open to Australian residents.
Grab the button to add to your post.
A new list is added each Sunday so bloggers need to add their links weekly.
Start entering the giveaways!

Hosted by Three Lil Princesses