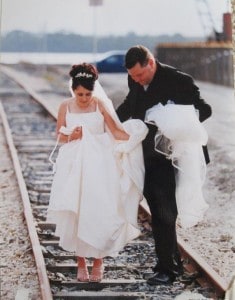 IT'S 8pm and I'm indulging in a little glass of sav blanc to celebrate nine years of wedded bliss. Nine years? Far out. No. Don't worry, I'm not going to lower myself to jokes about jail time. I'm a Mum, not a Dad.
Last month we took the girls to Strahan, on Tassie's West Coast, to show them the place where we exchanged vows. Long before the wedding day, I cottoned on to the fact this was going to be a longer commitment than the one we made the day we bought the box set of Entourage. And likely not always as glamorous or fun. If I had a double chocolate brownie for every challenge we've had to face together, he'd be married to a very different person right now. But I wouldn't change any of it.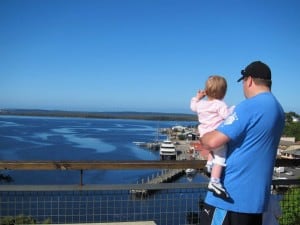 Taking the princesses to Strahan was by far the highlight of my year. Standing on the balcony, overlooking the harbour with the girls, brought tears to my eyes. Princess Ella has watched our wedding video more than 50 times. She knew all the spots. Every line spoken at each spot. She also wanted to know when the wedding was going to start and if she could play the role of the flower girl this time.
My Christmases now have greater meaning because of that one perfect day. Add to that the fact The Bloke in The Shed proposed Christmas Eve and you'll understand why I love Christmas. Even the memory of him proposing inside the Commodore, because I'd refused to get out and get sand in my shoes (talk about spoiling the moment), doesn't spoil it. By the way, I made up for the sand in the shoes incident on our wedding day. See.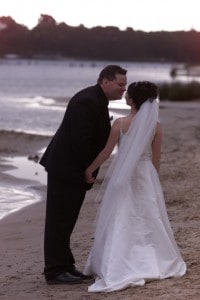 To now have two little people to help share in the joy we have for this time of year is pure bliss. I fully realise how incredibly blessed I am. I'm truly thankful.
So, happy anniversary to my Bloke in The Shed. Here's to hitting double figures next year. x
Linking up with the lovely Kate Says Stuff's Thankful Thursday. Click on the link to find out what others are thankful for this week.