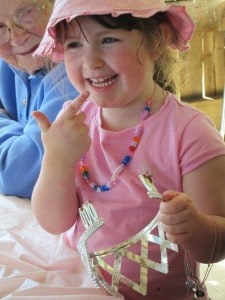 THERE was a post half written on a little tiny notepad as I cooked homemade pizza with Princess Ella for dinner tonight. In between cutting up the sweet potato, zucchini, mushrooms and eggplant, I jotted down thoughts quickly before Ella's incessant need to tell me the same knock knock joke repeatedly ruined my train of thought. That, or her baby sister waking.
It started off with how the big guns know too well we've all got our purse strings loosened a little more than usual at the moment. You see, three big companies filled our letter box this week with rather large bills, each with a due date of, yes you guessed it, December 24. Merry Christmas to us and a frugal New Year.
However, that all went out the window at 7pm tonight. My outlook on Christmas, on life, changed when I read a Letter to Santa in The Advocate Newspaper. The letter was from eight-year-old Staci. Tears are still falling as I write this. Those bills? They're irrelevant. Suddenly, I just want my little girl to talk my ear off – bad jokes or not.
I'll leave you with an extract from that letter. Merry Christmas to you all and, please, make sure you hug your babies just a little tighter tonight.
Dear Santa,
My name is Staci … and I am eight years old … I wish I could be one of your elves, because my wish for Christmas is to have my baby brother back. He died in July of HLH. If we could have Joey back, Dad and Mum wouldn't be sad anymore. Please take a gift to heaven for Joey. He loves teddy bears and cows and trucks.
Thank you very much.
Love Staci
*UPDATE*: I've since discovered little Staci is actually a boy, not a girl, and so have changed the title accordingly. Also, on December 16, The Advocate did an inspiring interview with Staci and his family.