A FORTNIGHT ago, back when it was summer, I posted the following on my Facebook wall:
"The windows and doors are wide open in preparation for another scorcher. Now, any other tips for a Taswegian who doesn't have air con (because, really, it would only get used 3 days out of 365!)?''
Suggestions came thick and fast, including the fact opening the doors and windows was not such a good idea. Apparently, I should shut the doors and windows and close the curtains to keep the heat out. It worked. As you can tell, I'm slightly clueless when it comes to the heat.
Other suggestions included:
Pedestal fans

Spray bottles with water to lightly mist yourself

Popping sheets in a snap lock bag in the freezer for chilling

Icy poles
However, there's one little room in the house that refuses to cool down in summer – Li'l Holly's bedroom. To this point, we've tried everything – portable air cons (just turned it into a sauna), window open and curtains closed (living in a quiet cul de sac means we all noticed when a car enters the street) and fans (too noisy and the cold air disturbs her sleep).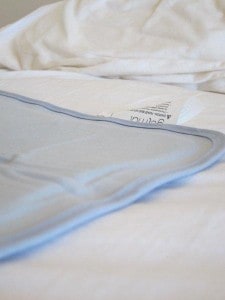 So, when the Coolgel Mat arrived, I was prepared to give it a try. Firstly, The Bloke in The Shed scolded me for not putting it in the fridge. "Ah, it's permanently cool,'' I said, before spending the next 10 minutes trying to explain how it works.
And it does work. I placed it in Holly's bed and within minutes she was out to it. Usually she would toss and turn for two hours and only fall asleep because of sheer exhaustion. The Coolgel mat made the two weeks of hot weather we had (where has that weather gone, by the way?) much more bearable.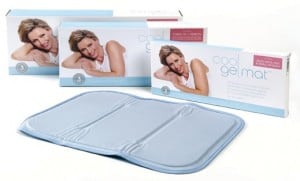 My explanation to The Bloke in The Shed went something like this… It works by the heat absorbing gel eliminating excess body heat for up to two hours. If only it stayed cool all night. It doesn't require electricity to operate either.
I've only recently learnt it can also be used when sitting on the couch, at the office, travelling or while doing exercise like yoga or Pilates. And it would be a blessing for pregnant women.
We have the pillow-sized Cool Gelmat (RRPL $79), which seems to be just right for the girls' bodies. However, it comes in three sizes, from the pillow size for head or feet to the largest size, which fits two across on a king-sized bed.  Plus, there's peace of mind knowing it uses non-toxic, high-density water.
Of course, there's one little problem now. After complaining of being too hot one night, Princess Ella tried it on her bed and has decided she wants one too.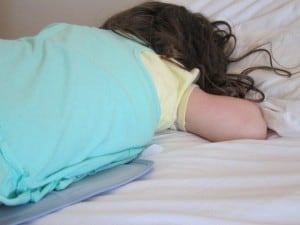 And apparently teddy also wants one.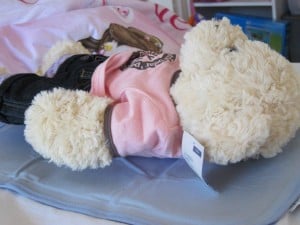 Looks like we're going shopping.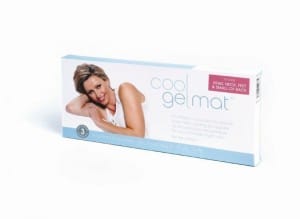 You, however, have the chance to win one. If you can't wait until the giveaway is drawn, the lovely people behind Coolgel Mat are offering Three Li'l Princess readers 20% off the recommended retail price of Cool Gelmat products, plus free delivery to your door, when purchasing via www.coolgelmat.com.au. Just enter the code word: "Kellie'' when accessing the checkout.
To enter to win the giveaway,  you need to tell us in 25 words or less: what is your tip for staying cool during summer? The most creative and original answer wins on Saturday, February 4 at 7.30pm.
DISCLOSURE: We received a pillow-sized Coolgel Mat to review. All opinions expressed are our own. The code provided is an affiliate code.
Terms and conditions: The CoolGel Mat Bag competition will be judged on creativity and originality. The total prize value is $79. The competition opens Saturday, January 14, 2012 at 9pm AEST and closes on Saturday, February 4, 2012 at 7.30pm AEST. One entry per person. Australian entries only. There is one prize to be won. The winner will be notified via email and name published here. Entries remain the property of Three Li'l Princesses and may be republished.
WIN – Find the best Online Competitions brought together all in one spot. It's free and updated daily!