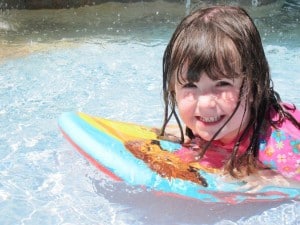 DECKED out in their swimmers, they excitedly wave as they pass us on their way to the top of the waterslide. The Bloke in The Shed grabs a mat in the hope it might help he and Princess reach the bottom more smoothly.
As Li'l Holly and I waited for them to reach the top, we watched pretty young thangs in bikinis and fake tan, closely followed by scrawny white college boys with raging hormones (I could see it in their eyes) and horrendous pimples. They need to watch more daytime TV. Hello, Proactive!
As this took place, Holly and I learnt a few things that may have been quite valuable for The Bloke in The Shed to know BEFORE he made his descent with Ella.
Things like:
A mat will actually make you go faster,

Going down with two people will actually make you go faster,

Being a heavier person will actually make you go faster.
Hmm, combine all three elements and you're leaving Speedy Gonzalas for dead.
Then there was the little matter of children. Seasoned parents reached the bottom of the slide and then threw their arms into the air, holding tightly to their little ones so they weren't dunked like Arnotts biscuits in a cup of English Breakfast tea. Most of the children stayed relatively dry.
All extremely valuable things to know. Of course, The Bloke in The Shed was totally obvious to all this.
Finally, it was time. Ella clung onto The Bloke in The Shed in the most awkward of ways, while the two pushed off on the mat plummeting faster than so-called prices as Coles supermarkets. As they made the final bend, they headed for the pool at the bottom. Then… SPLAT! They smacked the water hard. Ella went under, but her legs went up. All this caused large gushes of water to go up her snotills (her term for nostrils) and into her mouth.
When she came up, she screamed. And amid the screams came a "Don't ever take me on that again, Dad. I hate waterslides''. We heard this sentence for much of the rest of the day.
****
Fast forward to a week later. Ella and Holly have been happily playing with a little slide indoors. It's aimed at two year olds, but Ella still loves it. Holding tightly onto her "baby'' Jemima, she sat at the top of the slide, ready to push herself down.
Before plunging the two of them to the bottom, she turned to Jemima and said: `It's OK Jemima, I'll hold you over my head when we get to the bottom''. See Dad, that's how you do it.
Do you brave the waterslide at the pool? Do you have any tips for The Bloke in The Shed next time (apparently, Ella is over her fear and ready to try again)?