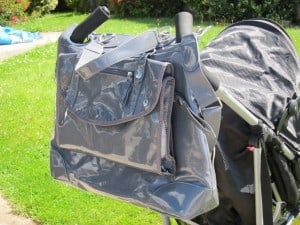 SOMEHOW I've managed to trial a few nappy bags of late. If only I had more children. Actually, no, I take that back. The Stylish Little Me Stroller Bag passed through my doors two months ago. In that time we've taken it to everything from the Melbourne Zoo to the pool. Not to mention filling it with a laptop (among other things) for a plane flight.
What appeals about this one is the ability to place it on the back of the stroller thanks to eyelets at the top of the bag.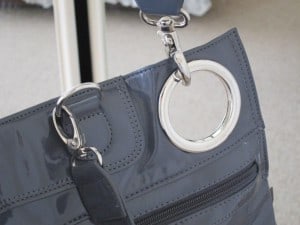 I don't have to worry about it dragging on the wheels or swinging from side to side and swiping out little ol' ladies. Although, a word of warning: it's best to take the bag off the pram BEFORE you take the child out of the stroller or the whole thing will tip up.  Not good when the earlier mentioned laptop was in it.
The bag is designed by two Sydney mums, Renee Tanner and Megan Boross, who wanted a bag that was stylish and functional. Weighing a meagre 1.2 kgs, it comes in two colours – midnight blue and platinum grey. The blue is quite classy, I might add. There are plenty of spacious pockets on the exterior and interior, including a zip pocket at the front for easy access when it's on the pram or stroller.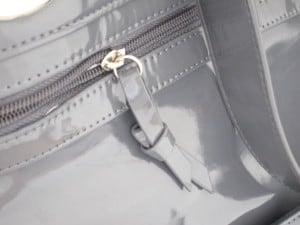 There's also a detachable change mat with compartment for wipes, nappies and tiny bot creams. Being detachable makes it ideal for those who are long past the nappy stage. And if that's the case, lucky you.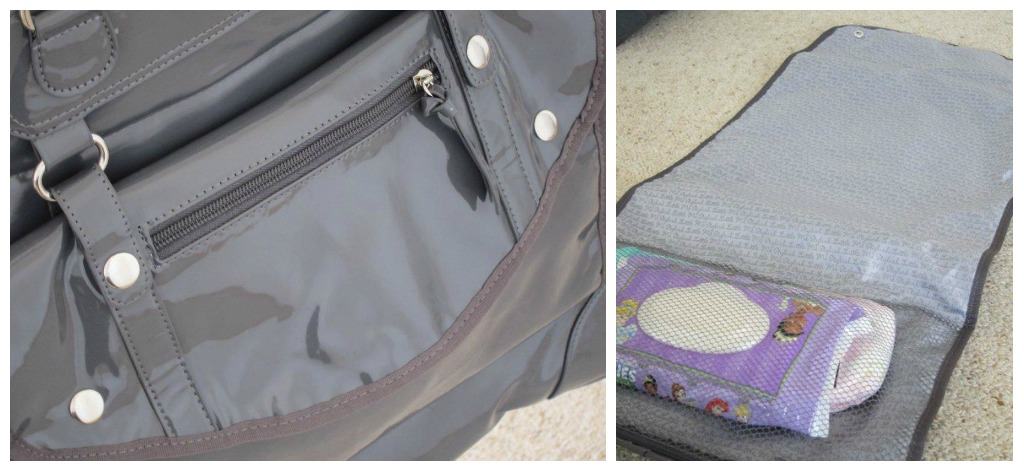 Along with the eyelets for the stroller handles, it has a long and short handle to suit different prams, including single bar prams. This would have been an issue for us if Li'l Holly were still in her pram. With the exterior easily wiped down, it is this shiny effect that is my only small criticism – but that's a personal thing.
The Stylish Little Me Stroller Bag retails for $199 and is available for purchase from www.stylishlittleme.com.au. The two mums have other product releases in the pipeline. You can also connect with them via Facebook.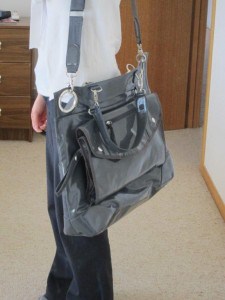 So, would you like one for yourself? Then listen up , because things have changed a little around here. Due to the rules surrounding "games of chance" verses "games of skill", I've now turned giveaways into games of skill.
So, what you need to do is tell us in 25 words or less: where would you take the Stylish Little Me Stroller Bag if you owned one? The most creative and original answer wins. You're also more than welcome to keep sharing the giveaways with your social media networks. Excuse the title of the form too – amateur hour here!
Terms and conditions: The Stylish Little Me Stroller Bag competition will be judged on creativity and originality. The total prize value is $199. The competition opens Friday January 6, 2012 at 7am AEST and closes on Friday, January 27, 2012 at 7.30pm AEST. One entry per person. Australian entries only. There is one prize to be won. The winner will be notified via email and name published here. Entries remain the property of Three Li'l Princesses and may be republished.
WIN – Find the best Online Competitions brought together all in one spot. It's free and updated daily!