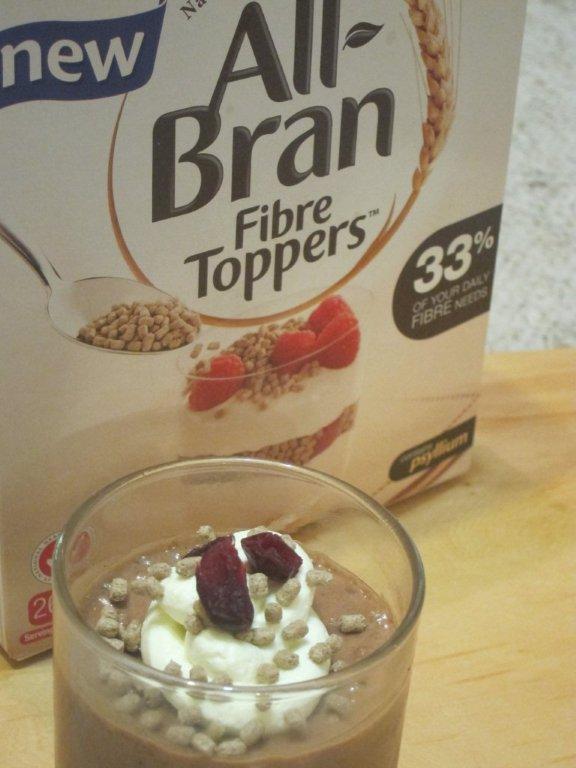 Just like some people are folders and some are scrunchers (we're talking fibre, right?), others like foods that are chewy and others like crunch. Maybe the real beauty of Kelloggs' newly released All Bran Fibre Toppers is that it's pretty versatile in its ability to provide recipes that are sweet, savoury, crunchy or chewy.
So, since we've covered savoury and crunchy, my second attempt at what I'm calling the All Bran Mystery Box Challenge is to create something that's sweet and chewy.
We're again pulling out the Tasmanian foods as part of our new Tasmanian food series (inspired by Kelloggs itself) and have created a Chewy Chocolate Mousse Surprise. The chewiness comes from the addition of a cup of Kelloggs All Bran Fibre Toppers (providing 66% of your daily fibre requirements) and the surprise is in one cup of juicy craisins. There's also the little addition of Fibre Toppers sprinkled atop the decadence.
While there are a few ingredients in here likely to rule me out of the trip to BlogHer in New York as part of the Kelloggs cooking competition – the brief was for "healthy'' recipes – this still at least shows you what's possible. Plus we all need a "well rounded'' diet, right? Right?
Chewy chocolate mousse surprise with #AllBran Fibre Toppers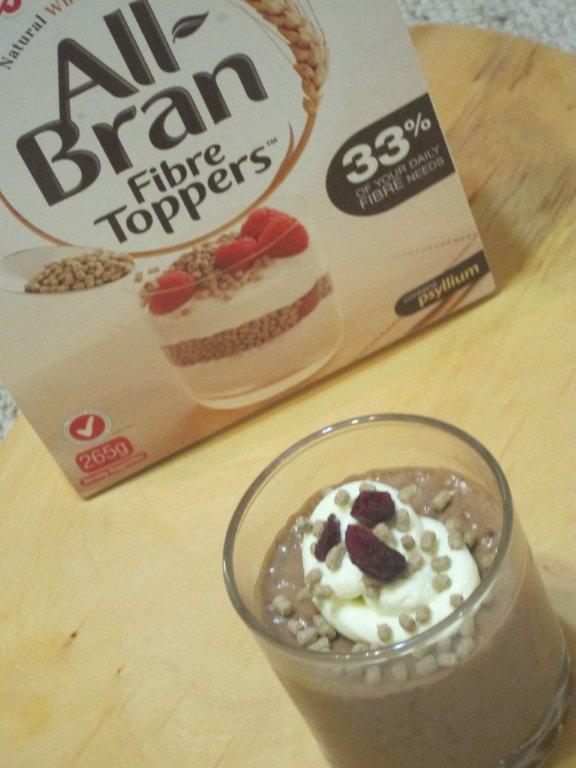 Ingredients:
300g Cadbury cooking chocolate (dark chocolate is the healthier option, lowering blood pressure and fighting disease), broken into pieces
3 eggs
1/4 cup (55g) caster sugar
1 tbs good-quality cocoa powder, sifted
1 cups of Kelloggs All Bran Fibre Toppers
1 cup of craisins (original flavour)
300ml thickened cream
Extra whipped cream, All Bran Fibre Toppers and craisins to serve
Method:
Place the chocolate in a bowl over a saucepan of simmering water making sure the bowl isn't touching the water. Stir as it is melting, it won't take long. Set aside to cool.
Place eggs and sugar in a large bowl and beat with electric beaters for 5 minutes or until mixture is pale and a thick volume. Fold in cooled chocolate and cocoa powder until combined.
In a separate bowl, whip cream until thickened (be careful not to overdo it).
Sprinkle in the All Bran Fibre Toppers and craisins into the chocolate mixture. Don't mix in just yet.
Use a large metal spoon to carefully fold the cream into the chocolate, All Bran Fibre Toppers and Craisins mixture now, trying to keep the mixture as light as possible.
Spoon into six glasses and chill in fridge for at least one hour. Remove from fridge 15 minutes before serving, then top with extra whipped cream, All Bran Fibre Toppers and craisins.
Do you like crunchy or chewy foods?