EVERY night this week, Li'l Holly has been playing with her food – also known as my boobs. She's lost interest in breastfeeding, which means we're nearing the end of what has been one of my great joys of the baby years.
I've said before how incredibly fortunate I've been that my four girls (bazookas and children) have made breastfeeding a pretty easy task. I also might add that it's been an immense help in decreasing my waistline. Sadly, it looks like I'll finally have to start exercising again.
There has been a slight issue with breastfeeding though, especially having done it for a combined 30 months. This is it – shrinking violets: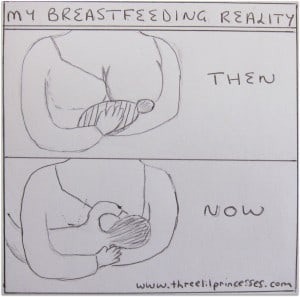 Seriously, Ella and Holly have sucked the life out of me. Well, my boobs at least.
On the win front, I can finally enjoy a wine with dinner again, get my tea-stained teeth whitened and slather anti-wrinkle cream into the deep ravines around my eyes. Vain? Yes!
Talking of winning, it's that time of the week again. Get clicking and see what fabulous things you can win for you and your family.
If you're a blogger or business wanting to take part in the Aussie Giveaway Linkup:
Only link directly to the giveaway post/s and include the prize and end date in the linky tool below. Link each giveaway separately. If you need to delete it, hover over your link, wait until the red "x'' appears and click.
Giveaways must be open to Australian residents.
Grab the button to add to your post.
A new list is added each Sunday so bloggers need to add their links weekly.
Start entering the giveaways! Entry is at your own risk. We do not take responsibility for unfulfilled prizes or a blogger/business not abiding by their own terms and conditions.

Hosted by Three Lil Princesses