In the Saturday Herald Sun's In Black and White section yesterday, Steve Perkin had readers send in photographs of their teddy bears. Looking at the names, he was inundated with photos and stories from the blue rinse brigade – Dulcie, Irene, Barbara, Pat, Eileen…
My favourite was from Judy:
"I have my mother's teddy bear, given to her when she was just three, in 1918. He is totally hairless, but otherwise intact and still very much loved. He sits next to my teddy, who must be nearly 60, on a chair in my bedroom''.
Wow, Judy! My teddy bear, at a mere 30-something years of age, now resides at my nan's house, where the great grandchildren play with it. The Bloke in the Shed still has his, which Princess Ella and Li'l Holly constantly play with. It begs the question: just which will be Ella's "teddy to keep'':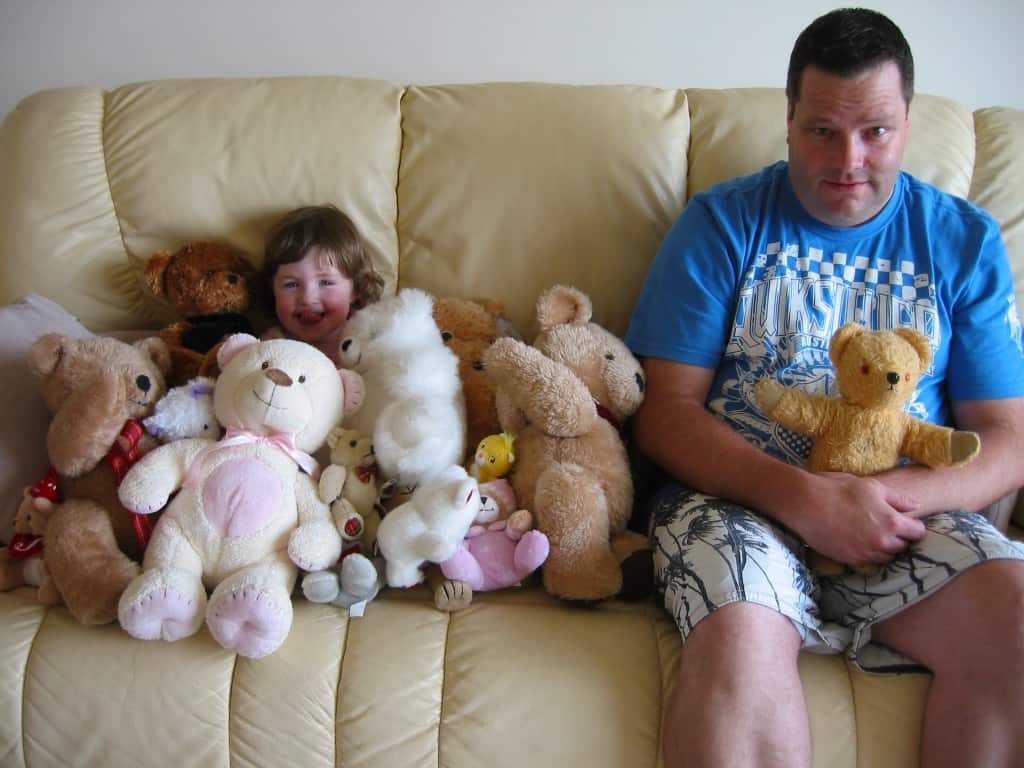 Yep, there's a few there to choose from. And that's not adding Holly's into the mix.
I'm quite fascinated to see and hear all the stories of people's beloved teddy bears. If you do want to share, you're more than welcome to upload your teddy bear photo to the Three Li'l Princesses Facebook page. I'd love to see it.
And then, of course, you'd best get clicking on this week's giveaway links.
If you're a blogger or business wanting to take part in the Aussie Giveaway Linkup:
Only link directly to the giveaway post/s and include the prize and end date in the linky tool below. Link each giveaway separately. If you need to delete it, hover over your link, wait until the red "x'' appears and click.
Giveaways must be open to Australian residents.
Grab the button to add to your post.
A new list is added each Sunday so bloggers need to add their links weekly.
Start entering the giveaways! Entry is at your own risk. We do not take responsibility for unfulfilled prizes or a blogger/business not abiding by their own terms and conditions.

Hosted by Three Lil Princesses