Tasmania is nearly half way through the Devonport Food and Wine Festival 2012 and I think I've already experienced the two highlights (and gained a sizeable belly from it).
Friday night was the Taste the Harvest Celebration Dinner – a five-course degustation dinner, with Melbourne's Pure South chef Dwayne Bourke. It was led by a Melbourne restaurant that champions Tasmanian produce. The owners even get their gummies on and tread the paddocks where the produce comes from. There's nothing qute like getting a bit of cow excrement on your boots.
Pure South sources the main ingredient for its dishes from Tassie, including Petuna seafood and Mount Gnomon Farm's free range Wessex Saddleback pork. Then add a splash of Barringwood Park and Ghost Rock wines. Yummo. If you live in Melbourne, seriously, make a special date and go. The food was sublime.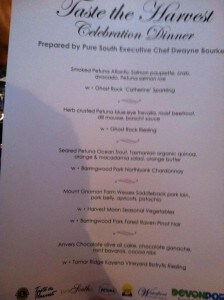 Apologies for the quality of the photo. You'll need to click on it to see a bigger version.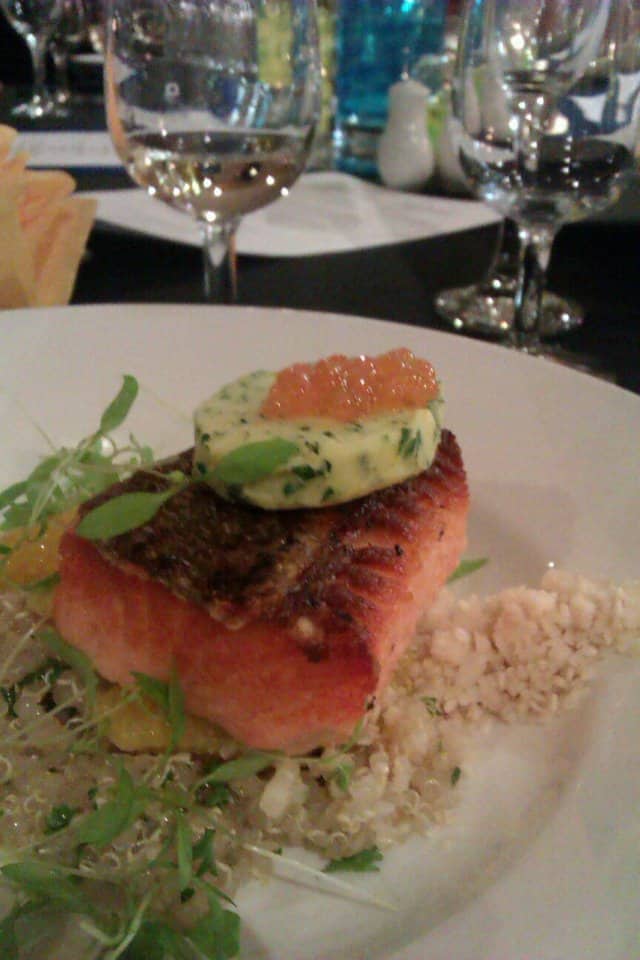 Here's the recipe for the above dish from Petuna Seafoods: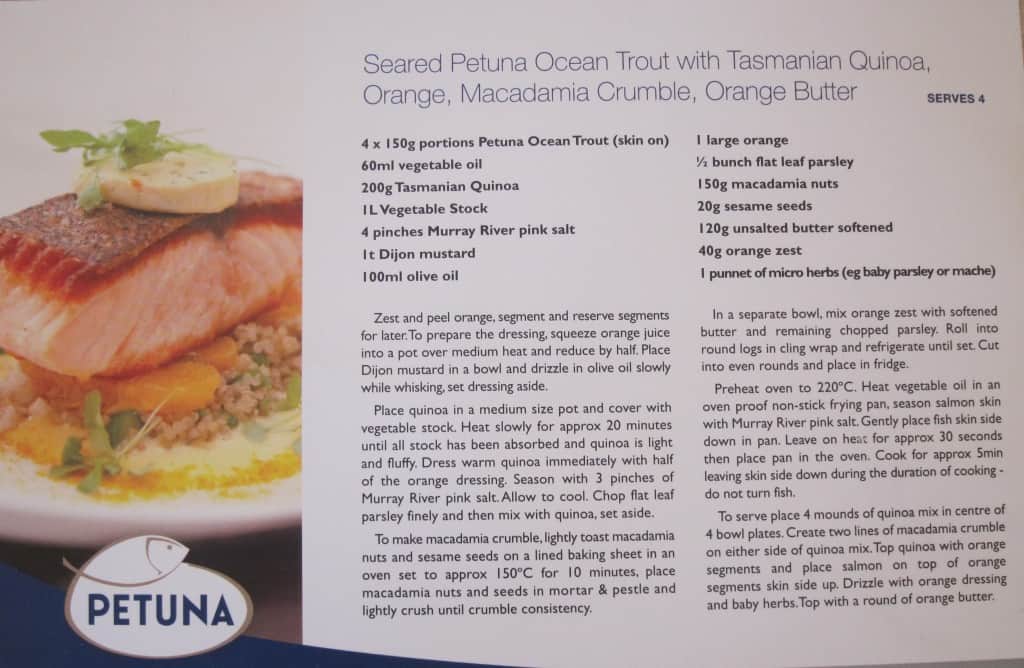 Again, click for a bigger version.
And apologies, but I kept forgetting to take photographs of all the dishes. I'd only remember when I'd finished eating. I didn't think you'd care for an empty plate.
The dinner was followed by yesterday's Taste the Harvest Festival on the Mersey Foreshore. The question is, what didn't I have? After sushi was a Moroccan chicken burger, a taste of the girls' Ashgrove ice cream and finally this: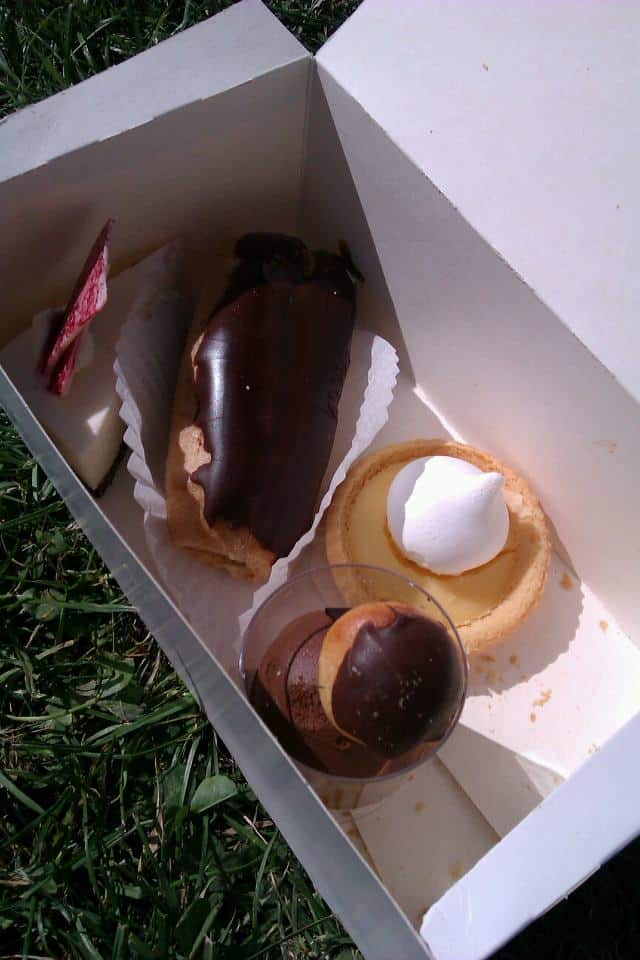 The Pardon My French dessert tasting box – minus the vanilla slice because I ate that before remembering to photograph it. I would make a hopeless food photographer.
I'm ashamed to say I ate 90% of it myself. I didn't feel much like dinner last night. I swore The Bloke in The Shed was going to make me sit at the dinner table until I'd finished all my veggies. Or put it in the fridge and make me eat it for breakfast this morning.
If you're planning on heading to Tasmania, make sure you make it for the Taste the Harvest Festival next March. This year it had more than 50 food, wine and beer businesses showcasing local produce, interactive agricultural marquees with cooking demonstrations, live music, roving performances and a dedicated children's area. Although, I swear Li'l Holly's been having nightmares since about the puppet show.
And make sure you tell me if you're heading this way. We'll share a Barringwood Park or Ghost Rock vino!
Some other highlights for the rest of the Devonport Food and Wine Festival (sorry, but my tired fingers couldn't type out the entire program):

Tomorrow: Cooking for Families on a Budget – Nigel Squibb, The Zone

March 14: Cooking with Primary Schools, Country Women's Association

March 15: Mediterranean Night, Bella's Restaurant

March 16: Cherry Tapas, The Cherry Shed

March 17: Forth Valley Blues Festival.

March 18: Vineyard Tour and Wine Tasting, Ghost Rock Vineyard + A Taste of Life, Barringwood Park Vineyard

March 19: Taste of India, Taj Mahal Indian Restaurant

March 20: Chocolate Masterclass, Anvers

March 21: Thermomix Cooking Class, with Deidre Triffitt, Girl Guides Hall

March 22: 100 Mile Dinner, Drysdale Restaurant Devonport

March 23: Sweet Treats, from The Edgewater, Roundhouse Park

March 24: Hop Picking, Seven Sheds Brewery + How to Cater for a Dinner Party, 5 courses with Ben Burgess, Tranquilles Bed and Breakfast, Cafe and Gallery

March 25: Australianising the American Plate, with Sally James, Waterfront Function Centre + Devonport Motor Show

March 26: Traditional Chinese Cooking, with Anthony Kwong, Reece High School

March 27: Heaven's Kitchen, Gateway Church

March 28: My Favourite Secrets Revealed, with Nigel Squibb, Reece High School

March 29: Cocktails and Jazz, Laneway

March 30: Thai Tasters, Thai Imperial Courthouse

March 31: The Finale Dinner, Waterfront Function Centre.
Learn more about the full program via http://www.facebook.com/devonportfoodandwinefestival and Taste the Harvest at http://www.tastetheharvest.org.au/
What's been your best foodie experience?
Read more about Tasmania in the My Tasmanian Backyard series.