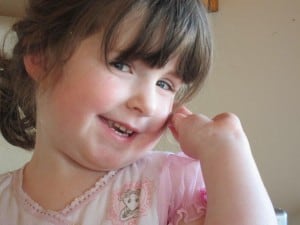 Most of you know by now that Ella is a huge Young Talent Time fan, which is not surprising considering she was born to a super fan from a previous generation. However, there's one little difference between her and I – confidence.
This week she stood up in front of her entire Kindergarten class and sung Queen's Somebody To Love (performed on YTT by Lyndal) – twice. The second time she sang it without her pinky in her mouth! Not surprsingly, her goal in life is to be on Young Talent Time.  Let's see if that one changes before the four years is up.
When I asked her "why did you sing?", she said: "because I wanted them to hear my lovely singing voice." So, here you are, Ella's "lovely singing voice" on Somebody To Love. If only she knew the words.
Do you have a Young Talent Time fan in your house?