Early Friday morning, I headed off to Melbourne for the Digital Parents Conference 2012 and what took place over the next 48 hours was not what I planned. Here are some of the key moments from my trip away and what was happening back home.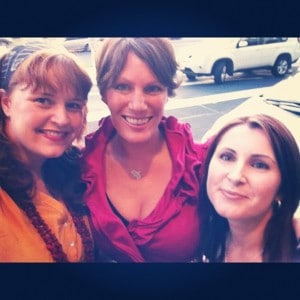 Louisa, Laney, Laney's boobs and I (stolen from Louisa's Instagram)
FRIDAY:
8.24am:
ME: A bus driver nearly loses an eye at the airport bus zone when the bus my bloggy mates Lori, Cassie and I booked is full. Suddenly, we find it's us, not the passengers who didn't book, that have to transfer to another bus. Lori to bus driver: "You'll be able to get us to our conference by 8.30am, then?''. Bus driver: "No can do, lady''.
JULIAN: Feeding Li'l Holly breakfast and struggling with the smell of the spew emanating from her high chair after yesterday's power chuck.
9.15am:
ME: The bus driver takes Lori, Cassie and I captive, driving around the city releasing others but not us, like some scene from the movie Speed (sort of). My prescheduled tweet about how I'll be "live blogging now'' goes out. Umm, yes, live blogging from the bus isn't particularly riveting reading according to my stats.
JULIAN: Watching the #DPCON12 Twitter stream, while text messaging me the following: "There yet?''; "Oh dear. Lots of people waiting to meet you. Problogger on''. (Problogger? Noooo).
10am:
ME: We finally wrestle the bus driver to the ground, tie him up and escape the bus. Not long after, I find myself sitting next to my good friend Louisa (thank you so much for saving me a seat), iPad open and taking deep breaths. I made it. Was disappointed to miss most of the Social Media For Social Good session.
JULIAN: Temper tantrums begin, mainly with Ella.
10.45:
ME: One of the highlights for me was the Blog to Book Session (click to read CoverItLive transcript). This is where my head is at right now, with the ebook coming out this month and also writing a biographical novel. While Valerie Khoo from the Sydney Writers Centre was quick to point out that the stories being told were not the norm, I still learnt a lot about getting a publisher. My biggest take home was "you need a book distributor to physically get books in stores''.
JULIAN: Went to pick up Ella's new glasses. Our little girl now sees the world in a different light – until she sits on them.
12.45:
ME: As much as I would love to have sat in on Valerie's Writing Workshop, I ended up at the Working with Brands session (click to read CoverItLive transcript). This was probably one of the most… `interesting' sessions of the day. I'll let you read it for yourself. The comment: "You run a huge risk with your readers if you're accepting cash for your posts. You'll soon lose your readers. It will hurt your blog'' sparked a lot of conversation.
JULIAN: Not much to report. Taking that as a good sign.
1.30pm:
ME: I'll be honest and say I went into Blog to Business session (click to read CoverItLive transcript) not expecting to learn a whole lot. However, I was blown away by some of the lessons these women had to share. Renee from Bra Queen was particularly inspiring for me and was glad I had a chance to chat to her in the break too. Even during that chat, she was still sharing tips. What a generous woman.
JULIAN: As before.
6pm:
ME: I spent the afternoon in a hotel room stupidly trying to catch up on work after having Holly stuck to my chest the day before throwing up. Instead, I should have been listening to what I knew would be a powerful story from Kristie from Hespera's Garden and others in the My Blog, My Story session. By 6pm, I was pulling on a dress and heels and ready to party for the dinner and dance.
JULIAN: Texts through to tell me: "oh no. I'm feeling crook''.
8pm:
ME: There was that fear my awesome dancing abilities pre-children may have been lost to daggy mum shuffling. Thankfully, there wasn't a Tassie Two Step in sight. The phrase "dance like no one is watching" was undoubtedly penned for the fabulous Shae. Although, I'm not so sure about the moment she decided to rip her boots and leggings off mid dance.  Hmm.
JULIAN: Texts through to tell me he's: "power spewing and shakes''.
10.30pm:
ME: Get wrangled into doing the photo booth, wearing a princess tiara and oversized glasses. Restrain myself from grabbing the microphone and singing Shania Twain. Wow, mummy bloggers are hardcore party animals.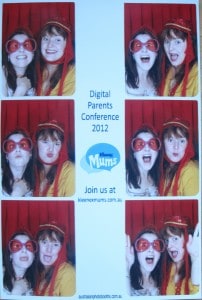 Sadly, the only photo I have from the whole DPCON12.
JULIAN: Texts through to tell me: "Holly has spewed everywhere. Your mum has come over.''
SATURDAY:
8.30am:
ME: On the phone to Julian and the princesses, giving details of my fabulous night with some of the most inspiring women on the web. Brenda, you and the team should be very proud.
JULIAN: On the phone to me, detailing the volume of spew flushed down the toilet since 8.30pm yesterday, which includes Ella also now spewing.
10am:
ME: Eating this with my li'l brother in St Kilda.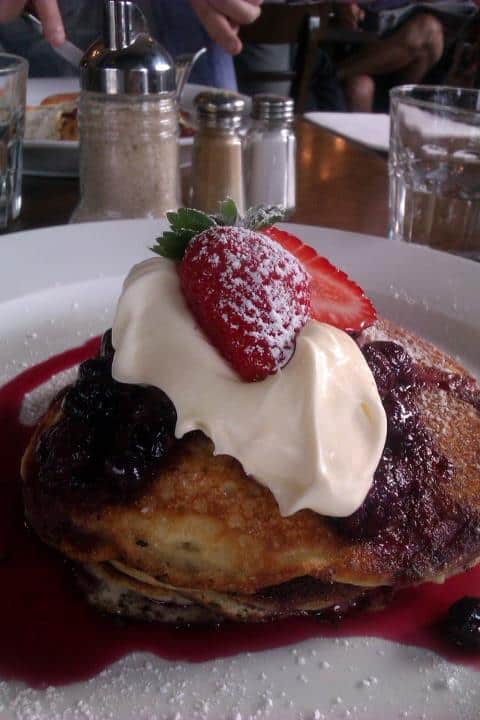 JULIAN: Texts through to tell me: "you cow''.
11.30am:
ME: Shopping at Chadstone and fell in love with the Build a Bear Workshop.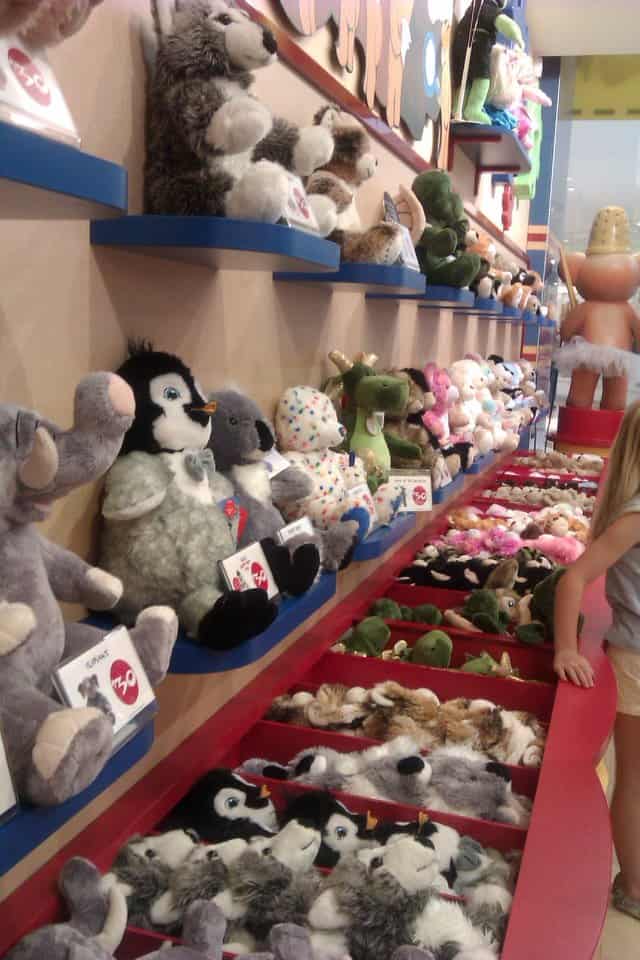 JULIAN: Texts through to tell me: "Holly has crashed. Ella asleep in our bed''. It seems the sick girls are worn out.
5pm:
ME: Sitting on the plane, just landed, and seeing a little girl in a pink dress jumping up and down inside the airport. Within a few minutes, I have two li'l princesses jumping all over me, covering me in the biggest kisses. Especially Holly, who has never spent a night away from her mum-mum. It's good to be home.
JULIAN: Enjoying seeing his girls smiling for a change.
6pm:
ME: Going through the DPCON goodies bag with the girls, with Ella's favourite being Karen Andrews book Surprise. My favourite is the beautiful cards from Hallmark and the voucher from mooo.com.au.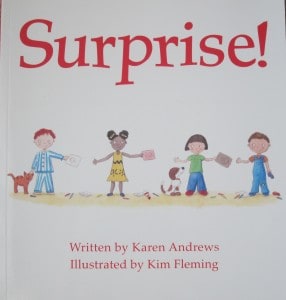 JULIAN: Becomes far too excited about the Viva and ENJO products included in the bag. Apparently one of the Viva products was marked on his shopping list. I am not kidding. Probably due to all the spewing that's been going on.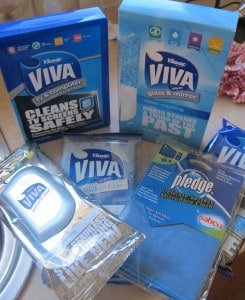 7pm:
ME: Exactly two hours after arriving home, I begin adding colour to the inside of the toilet bowl.
JULIAN: Sighing… will this ever end?
Does anyone else go to these sorts of events and have that fear someone via Facebook/Twitter/email will mention they spoke to you, but you will have no recollection of it? We spoke? Did we?