Today is a pretty significant day in the palace. The long-awaited ebook, Only Hearts Should Be Worn On Sleeves: The Snotty Truth About Motherhood, has been released. A tad earlier than expected, but in all honesty I'm just glad to see it finally out there. Kind of like the day Ella was born. I'd had enough of waiting.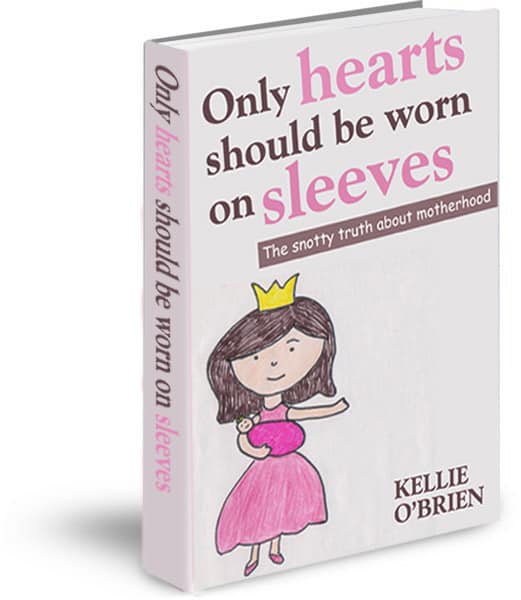 For those who don't know the background, here's a bit of a timeline:
Mid 2007: I was up the duff and trying to launch a new magazine for The Advocate Newspaper. There's nothing like a bit of stress when you're "in the family way'. We needed a column and we needed some content to appeal to mums. The logical answer was to write a funny mummy column about the good, the bad and the ugly of pregnancy. Back then, I had no idea about mummy bloggers. Never heard of the things.
November 2007: Ella was finally born and requests for the column to continue quickly started. So we decided to continue it throughout Ella's first year of life. Re-reading them, there seems to be an awful lot of discussion about excrement.
November 2008: A year later the column ended, but people's desire to talk about the column didn't. We'd get stopped in the street by people wanting to meet "THE Ella''. Even older men whose children had long left the nest wanted to recount their favourite column. Always awkward when it involved the one where I sneezed eight times and wet my pants. Did I do that?
October 2010: Ella's little sister Holly was born. With the column still being brought up in conversation at least two to three times a week, it seemed the right time to launch one of those mum blogs I kept hearing about so I could direct them somewhere to keep reading.
January 2011: This blog was born and my discovery of the potential of ebooks began. I started talks with The Advocate Newspaper around the idea of launching the columns into an ebook. Over the course of motherhood, blogging and starting a business, the ebook idea gathered a bit of dust in the "we'll get there one day'' trays.
April 2012: Here we are, nearly five years later, finally launching my baby. And it really is like having another baby all over again. At least this time I keep my dignity. Or maybe not. I hope you enjoy it as much the second time around as you did the first. And if this is the first time you've read it, I hope it gives you plenty of giggles and head nodding moments. If you see us in the street, please stop us, let us know you read the ebook and say "hi'' to Ella – she loves the attention. She feels akin to Suri Cruise these days.
Oh, and it seems the support continues. This was what happened on Facebook last night.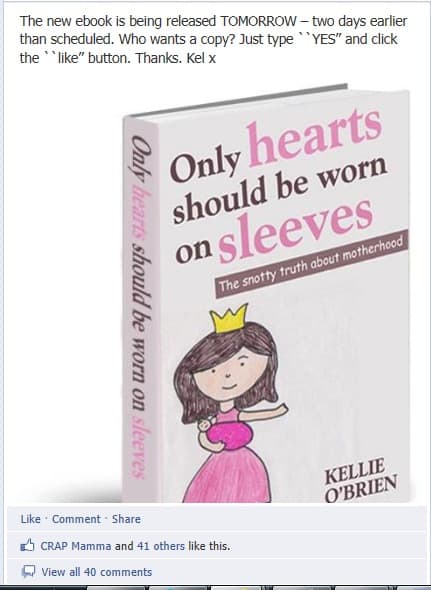 Thank you. You have no idea how much those "likes'' and comments mean to me.
If you're interested in buying the book, whether as a Mother's Day gift, for yourself or a friend in need of a good laugh, you can buy it here or click the button below.

Stay tuned for Monday when we start our Virtual Book Tour.
I'm interested to know if you read the columns when they were printed in the paper? Are you planning on reading the ebook?