The lovely Jodie Benveniste from Parent Wellbeing is taking over the palace today as part of her week-long Virtual Book Tour for her latest release. I've already devoured her two previous books – Full Belly and Little Bundle – and am now enthralled by her The Parent Manifesto: How to create a parenting approach that's perfect for your family.
***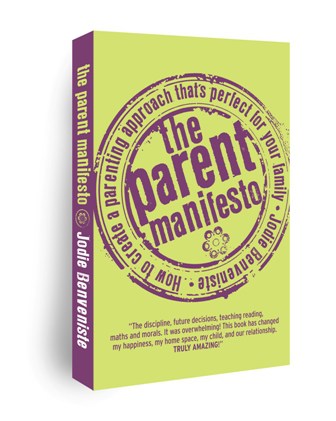 As a first-time mum, I devoured every book possible on parenting, to the point I became so confused I wasn't quite sure whether I was laidback Kate Hudson or strict Julia Roberts. According to my acting skills, I'm neither. The fact is, I didn't trust my instincts enough.
Funnily, the past two weeks I've had my head buried in yet another parenting book. The difference is this one doesn't tell me what to do. Instead Jodie has put together a nurturing and encouraging step-by-step style book that empowers mums and dads to create a parenting approach that's perfect for their family. I mean, seriously, nobody else is quite like The O'Briens.
It doesn't matter what age your children are, anyone can put themselves back in control by using the tools Jodie provides. The AAA Parenting Tool is my fave. And no, it has nothing to do with using batteries. We're now creating our own little O'Brien Parent Blueprint.
***
Here's an extract from the book which particularly resonated with me:
This is what I value, this is what I believe
Not so long ago, I had a major meltdown
I was de-motivated about my work and I felt uncertain and unsure. This was confronting because I'm normally highly motivated, goal orientated, and very sure about what I want to achieve.
But I was forced to stop everything, sit back, reflect and make some decisions. Difficult decisions.
This process involved a number of stages.
Firstly, I had a major freak out. The freak out was the warning sign that my life wans't how it should be. Freaking out wasn't a pleasant experience, but, as I later realised, it was necessary.
Secondly, I went through a stage of feeling incredulous. I didn't believe there was anything wrong with my life. What could possibly be wrong? THERE IS NOTHING, I REPEAT, NOTHING WRONG! But there obviously was.
Stage three involved avoidance. I wasn't motivated to work hard so I created distractions like reading and re-reading the Twilight books. It was enjoyable and indulgent, but only for a while.
It was time to face facts. I realised that working too many hours and putting too much pressure on myself at work and at home was not sustainable. I had to be honest. I had to get real.
Next, I spent time reflecting on what was important to me. I asked myself some tough questions and really listened to my gut. Why was I working so hard? For what end? Who was benefiting? Me? My family? Is there another way to do this? How can I make this better?
Then, I made some difficult decisions. They included selling my corporate business to focus on Parenting Wellbeing, and scaling back my working hours so I didn't miss out on my kids.
Finally, I moved onto a happier stage where I felt physically healthier and more fulfilled. I was still working hard on my business but in a smarter and more sustainable way and I had more energy and emotional capacity for my family.
Turing a meltdown into a valuable learning experience involved me assessing my values and beliefs.
***
Jodie is also running a new 12 week Parent Manifesto program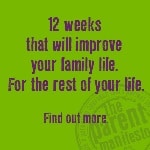 AND
a free webinar next week:
Parenting enemy #1: Everyone else knows best (or do they?) During the webinar I'll be providing valuable information such as:

· The 5 parenting pressures that are keeping us from having a great family life

· The top 5 things that parents really want

· The 3 things kids really need from us as parents

· How one parent overcame her struggle with dealing with others' opinions about her parenting (including her own mum's)

· How you can separate helpful and unhelpful parenting advice, and parent a little more confidently

It will take place at 8pm AEST time on Thursday, 26th April. Visist: https://www4.gotomeeting.com/register/787159231
So, what was the worst piece of parenting advice you received? And what was the best advice you were given?