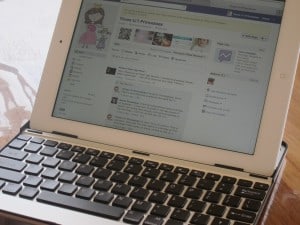 SOME days, being a Work at Home Mum (WAHM) and Stay At Home Mum (SAHM) leaves you tearing your hair out (usually the grey hairs if you're rather skilful). You've heard it before, but it really is the hardest job in the world. Sitting at an office desk is child's play.
With Baby Holly battling a cold, there's no such thing as sick leave. The boss is unlikely to give you a pay rise. And it's hard not to be distracted by the crumbs on the kitchen floor when you're either meant to be making that business call, blogging or feeding a hungry mouth. And that coffee break? What coffee break?
However, there are some real advantages too:
The incessant ringing of telephones is no longer. Unless your four-year-old constantly has this conversation with herself using a shoe: "Brrp, brrp, Hello? Nan? Yes, yes, I know. I'll be right over. Polly put the kettle on and we'll have a Milo. Oh Nan, you're so funny. Bye.''
You don't have to endure the workmate who eats their lunch at their desk and makes loud chewing noises. Eewww. Although, it is replaced with li'l princesses who spill their food ALL. OVER. THE. FLOOR.
Gone are the rumour mills. You know that workmate who wants to start a rumour about everything and everyone. And, when you're not in earshot, most likely you. (By the way, I did not sleep with the boss. Well, the old boss, anyway.)
Not being told what to do all the time. Mind you, I do have one person in my ear constantly asking: "Mum, can you get me something to eat? I'm hungry''. "Mum, can you play Snap with me?'' "Mum, can you make me a pina colada with one of those little umbrellas and ice?'' OK, so maybe not that last one. If I had stayed on at my workplace, my boss would now be my hubby. So I'm not escaping the boss regardless of where I "work''.
There is no longer a commute to and from work every day. Not to mention the cost of parking. All I do now is reverse myself into a chair. Or the couch. With a laptop atop my lap (hmm, think I've been reading too much Dr Seuss).
You don't have to work back late. Note the words "have to". OK, so I'm the first to admit I sit up every night blogging or doing my PR biz. However, the kids have been bathed, fed and had bedtime books and songs. Hubby is busy watching An Idiot Abroad, so what else is a gal to do?
Most importantly, you don't have to put up with other people peeing on the toilet seat or not flushing properly. Sorry, but it had to be said.
Are you a WAHM or SAHM? What do you miss (or not miss) about working outside of the home?