So, what wins do I have to sprout about this week? Well, let's see:
WIN: I finally got Ella to look beyond Hi-5 and The Fairies and introduced her to High School Musical. I discovered a copy of the DVD tucked away in the cupboard from my entertainment magazine days. She instantly fell in love. I instantly wanted to be 10 years younger so I was half a chance with Zac Efron. OK, maybe more like a 3% chance.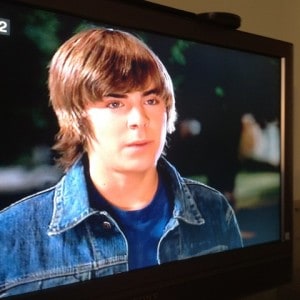 LOSE: Three days later we'd watched it five times already and she'd discovered I also had the CD. It is now on high rotation in the car.
WIN: I had to go to the video store (not that they have videos anymore. Someone really needs to rebrand them) to get a copy of Red Dog for the book I'm writing. I took Ella along. We discovered High School Musical 2 and 3. I know. Who would have thought?
LOSE: She's not interested in the second and third instalment. Not even with a bucket of popcorn thrown in. She just wants the original and to bust a move singing Stick To The Status Quo. Not that she has any idea what "status quo'' is.
WIN: Did I mention Zac Efron's not bad looking. Sadly, that's as good as it gets, people.
Are your children obsessed with any TV shows or movies at the moment?
If you want a real win, then start clicking on the links below. We had 36 links last week. Can we top it?
If you're a blogger or business wanting to take part in the Aussie Giveaway Linkup:
Only link directly to the giveaway post/s and include the prize and end date in the linky tool below. Link each giveaway separately. If you need to delete it, hover over your link, wait until the red "x'' appears and click.
Giveaways must be open to Australian residents.
Grab the button below to add to your post.
A new list is added each Sunday so bloggers need to add their links weekly.
Start entering the giveaways! Entry is at your own risk. We do not take responsibility for unfulfilled prizes or a blogger/business not abiding by their own terms and conditions.

Hosted by

Hosted by

Tagged with →

Aussie Giveaway Linkup • Reviews