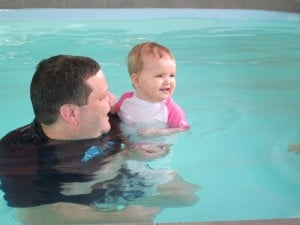 Yesterday we went for a dip in a private indoor pool (because we live in Tasmania and you would not go swimming otherwise at this time of year). The water was so warm and the air so cold, at one point I had flashbacks to a scene from Gorillas in the Mist as The Bloke in The Shed approached me in the water amid a sea of fog.
Ella loves the water. However, she's had a real fear around learning to swim. Yesterday she was wearing her Wahu life jacket and gaining more confidence as the hour went on. After a year of trying to build her confidence to let go of us, she did. Her legs looked like a frog kicking and her fast-paddling hands were akin to a dog who'd just witnessed steak being put on the barbie onshore. But she was loving it. And we were beaming.
Holly, at just 20 months of age, didn't want to be left out. So, without a floatation device, she tried her best to swim away from our grasp and go alone. She ended up drinking about 15 litres of water. Her nappy later proved that.
When we got home, I told Ella how proud I was of her for having a go. She responded with: "Thanks for being proud of me, Mum. I'm proud of you too''. I'm still wondering exactly what it is she's proud of me for.
Anyway, that's my small but important win for the week. What about you? What win have you had? If you're still waiting, get clicking below to score yourself a chance at something nice.
If you're a blogger or business wanting to take part in the Aussie Giveaway Linkup: 
Only link directly to the giveaway post/s and include the prize and end date in the linky tool below. Link each giveaway separately. If you need to delete it, hover over your link, wait until the red "x'' appears and click.
Giveaways must be open to Australian residents.
Grab the button below to add to your post.
A new list is added each Sunday so bloggers need to add their links weekly.
Start entering the giveaways! Entry is at your own risk. We do not take responsibility for unfulfilled prizes or a blogger/business not abiding by their own terms and conditions.

Hosted by Three Lil Princesses