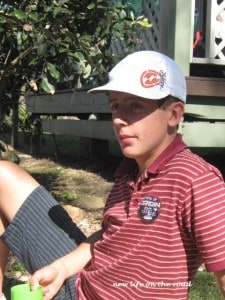 It's almost 18 years ago since you were placed in my arms. Perfect and so small, yet you had your own way of doing things. Even from the moment you came home from hospital. It was almost like you had been here before and you had your own set rules.
Never did work out what those rules were but let's look back on what you have managed to achieve in the last (almost) 18 years!
Woody's Oldest Son
You walked at 10 months. Actually you ran… it scared me so much that we decided not to have six children – I guess we almost made it!
You could climb 6ft wooden fences with your bare feet – and that was scaling them in seconds from the tender age of four.
Broken bones? Yep… we have lost count! Your first time was falling off a slide in a playground – you insisted on standing instead of sliding down. But guess what – you were built to last. That adventure ended up in a hospital trip, three different doctors' interviews, many questions and one pink cast. Why so many doctor questions?
Well, you never said anything for a day (or maybe two!) so we hadn't taken you in straight away because we didn't realise it was broken.
Then there was the time you were running through the house. And you mis-judged the hallway. You sure made a good impression on the wall – literally! You left your statues in that house (with your head imprint on the dining room wall)
Then there was the time you said "Watch me, Mum" – where you grabbed some rope, swang on it from the trampoline, smack back into the wooden fence. YES. You did that, and you laughed. You went back to do it again even when I said "no more".
Can you also remember the time you climbed a paper bark tree? Sure, the climb was easy, reaching for your lost ball. But the slide down was not something that you will surely repeat again? Your stitches in your leg may have healed, but I still remember the day clearly. So does the neighbour who used to live next door to us…. I have never seen a grown man jump a wire fence before!
What about your football smashing good times? You so loved to get out onto that field, and run towards boys double your size. You might have been small but you sure could play as part of the team.
I even remember you sneaking out of the house to run away… we found your note and guessed where you were. Out on the field – with one broken arm… nothing was able to stop you!
Over the years we have watched you grow, and said a little thank-you (maybe more than little) to your guardian angel. She sure is working over-time. Yet you manage to find your way.
There are no set rules when it came to watching you grow, but gee are we proud of all you have achieved, and we are so delighted that you are about to turn 18!
We can't wait to the day you have your own family (just not yet please!). Maybe then you will one day realise how many of your fun crazy filled adventures sure helped your Dad's hair to fall out, and mine to go grey. But hey, at least we get to say "Yep that's our son"!
Lisa Wood brought a motorhome from eBay and then had to tell hubby afterwards. Lisa and David have five boys, four of them are travelling and living together in an old school bus that is being given new life! She blogs about her travel at New Life On the Road and you can connect with her on Facebook.