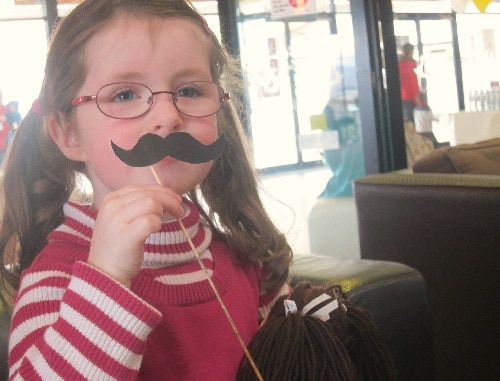 Ella: "Look Mum, a ma-tash". I have no idea why she calls a moustache a "ma-tash".
Princess Ella has had some winning lines this week. Like:
Ella (while I was cooking stir fry): "Mum, if you can't cook very well, you can always just make easy things that I like – like ice cream!"
Ella (while eating stir fry): "Mum, this is delicious. You should practice cooking this every night".
AND
While in the bath on Friday night, Ella was blowing bubbles.
Ella: "Mum, did you hear that? Wow! I can talk underwater".
Me: "Darling, I never doubted that for a second".
What little gems has your child come out with lately?
And now for some REAL wins. Just click on the links below to start entering some fab Aussie giveaways.
If you're a blogger or business wanting to take part in the Aussie Giveaway Linkup:
1. Only link directly to the giveaway post/s and include the prize and end date in the linky tool below. Link each giveaway separately. If you need to delete it, hover over your link, wait until the red "x'' appears and click.
2. Giveaways must be open to Australian residents and be run by Australian-based bloggers or businesses.
3. Grab the button below to add to your post.
4. A new list is added each Sunday so bloggers need to add their links weekly.
5. Start entering the giveaways! Entry is at your own risk. We do not take responsibility for unfulfilled prizes or a blogger/business not abiding by their own terms and conditions.

Hosted by Three Lil Princesses