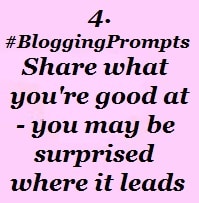 When I first started blogging, I undertook Problogger's 31 Days to Build A Better Blog. As part of that, Darren asked readers to start a series. I decided I'd do mine on how bloggers could gain media exposure. Being a journalist, I thought that was an easy one for me to do.
Little did I know it would springboard into my own business (Mum PR) where I now work with a team to do PR, social media, blogger outreach, writing, marketing and media management for various clients. You just don't know who's reading!
What could you explore on your blog? What are you good at that has business potential? Go on, we'd love to hear it!
This mini post is part of a regular microblogging series, #BloggingPrompts.