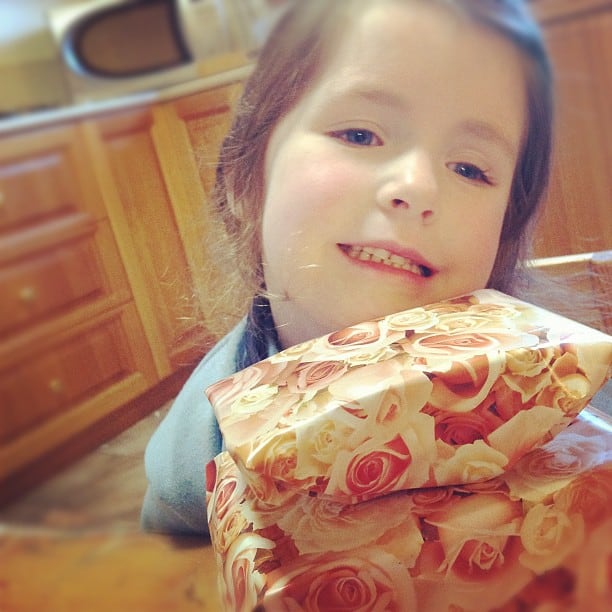 You know I can't get through today's post without mentioning Father's Day, so here we go on some winning lines from the week:
Ella had the Father's Day stall at school during the week. I mentioned to her how he'd love some of the Collingwood items I'd spotted earlier in a bid to help her spend her $10 wisely. After school, I asked her what she'd finally bought. "A lovely tea cup. It's really beautiful.'' Coffee drinking Dad will love that one today.
And yes, that's floral paper wrapped around his present in the photo. It was either that or Christmas wrapping.
If you'd like to learn more about blogging and social media, make sure to take part in the Mum Blogging Masterclass tomorrow from 2-4.30pm. If you're in Tassie, get along to the University of Tasmania Cradle Coast Campus or if you're stuck at home or interstate, visit the Mum Blogging MasterClass live blog. Note: if you visit the link now, you can insert your email address and it will send you an email reminder tomorrow (Monday). And yes, this point had nothing to do with fathers.
What are you up to on this Father's Day? Do you have anything special planned?
OK, onto some other wins. Just click on the links below to start entering some fab Aussie giveaways.
If you're a blogger or business wanting to take part in the Aussie Giveaway Linkup:
1. Only link directly to the giveaway post/s and include the prize and end date in the linky tool below. Link each giveaway separately. If you need to delete it, hover over your link, wait until the red "x'' appears and click.
2. Giveaways must be open to Australian residents and be run by Australian-based bloggers or businesses.
3. Grab the button below to add to your post.
4. A new list is added each Sunday so bloggers need to add their links weekly.
5. Start entering the giveaways! Entry is at your own risk. We do not take responsibility for unfulfilled prizes or a blogger/business not abiding by their own terms and conditions.

Hosted by Three Lil Princesses