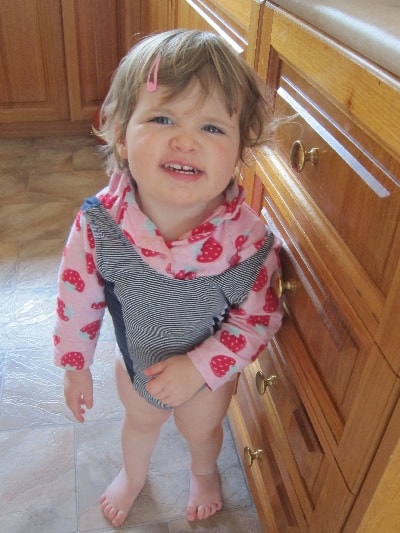 It's been a winning week here – literally:
Let's start with the above photo, shall we? I'll post more on Li'l Holly's obsession with dressing up soon (along with a giveaway), but let's just say no one sports a pyjama top and bathers quite like this nearly two year old. A fashion win? (And I have no idea what she's doing with her face!).
The Bloke in The Shed went to the PANPA (Pacific Area Newspapers Publishers' Association) Awards in Sydney during the week. For those who don't know, it's a big deal for newspapers. His newspaper scored a win and three highly commended awards from a mammoth seven nominations. Before flying home, he was wetting the men's urinal at the Sydney airport when he realised he'd left the award in security. A quick dash back and he found the bomb squad about to pounce onto the shoebox with the award. Now that's how to get your awards story from page 7 to page 1!
The girls spent yesterday morning struggling to contain their emotions at the thought of Julian arriving home. At the airport, you'd swear Justin Beiber was about to disembark the plane. Actually, let's make that Jeff Wiggle.
Do you children love dress ups? Do they prefer your clothes, a mix of their own or traditional dress ups?
OK, onto some other wins. Just click on the links below to start entering some fab Aussie giveaways.
If you're a blogger or business wanting to take part in the Aussie Giveaway Linkup:

1. Only link directly to the giveaway post/s and include the prize and end date in the linky tool below. Link each giveaway separately. If you need to delete it, hover over your link, wait until the red "x'' appears and click.
2. Giveaways must be open to Australian residents and be run by Australian-based bloggers or businesses.
3. Grab the button below to add to your post.
4. A new list is added each Sunday so bloggers need to add their links weekly.
5. Start entering the giveaways! Entry is at your own risk. We do not take responsibility for unfulfilled prizes or a blogger/business not abiding by their own terms and conditions.

Hosted by Three Lil Princesses