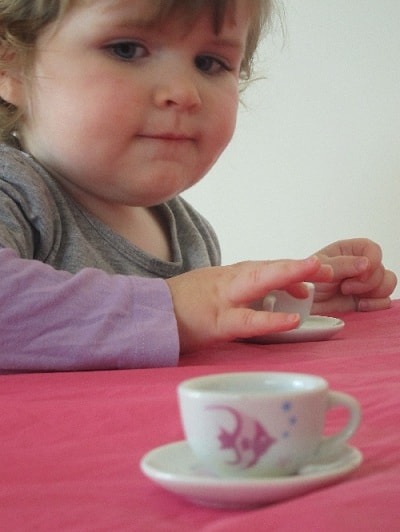 Butter wouldn't melt….
This week was a reminder of just how quickly our girls are growing up. Some days I wish I could just click the pause button. Other days my finger hovers over the mute button. But I digress…
There will be some video coming this week but, in the meantime, here are some funny moments that make me realise my girls are growing all too fast:
Ella (not quite 5) befriended a 10-year-old boy at vacation care this week (school holidays finish in Tasmania today). She followed him around all day and then asked if she could take him home with us. If she was 10 years older, I'd be worried!
Ella has been teaching Li'l Holly (2) about the Tom Cat iPad app. While cuddling Holly in the kitchen, she started stroking my face and prompting me to purr. So I started purring like Tom Cat does. It was gorgeous… until she swiftly followed it up by bonking me on the nose in a bid to knock me out! That'll teach me! (Might I just add I'm not sure how I feel about the girls playing this game!).
Any funny or silly things happen during your week?
OK, onto this week's Aussie Giveaway Linkup entries.

If you're a blogger or business wanting to take part in the Aussie Giveaway Linkup:
1. Only link directly to the giveaway post/s and include the prize and end date in the linky tool below. Link each giveaway separately. If you need to delete it, hover over your link, wait until the red "x'' appears and click.
2. Giveaways must be open to Australian residents and be run by Australian-based bloggers or businesses.
3. Grab the button below to add to your post.
4. A new list is added each Sunday so bloggers need to add their links weekly.
5. Start entering the giveaways! Entry is at your own risk. We do not take responsibility for unfulfilled prizes or a blogger/business not abiding by their own terms and conditions.

Hosted by Three Lil Princesses