It's not uncommon to witness a little person, decked out in full dress up, stomping down the hallway. And you've never seen a nearly five-year-old work those heels quite like Ella does. I didn't even know she had hips!
It appears Holly is following suit with her love of dress ups. This week she had on a PJ top, trackie pants, a sheep beanie, a pair of bathers, a mermaid outfit and matching mermaid bag – all at once. She thought she looked utterly gorgeous – and that's all that matters. (Here she is partly dressed in the above mentioned)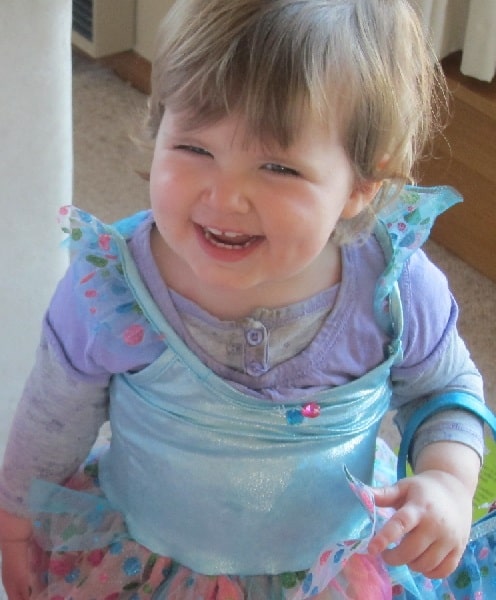 To listen to the stories they create when they're "made up'' just reinforces how important it is to foster their imaginations – and capture some hilarious photos for their 18th birthdays.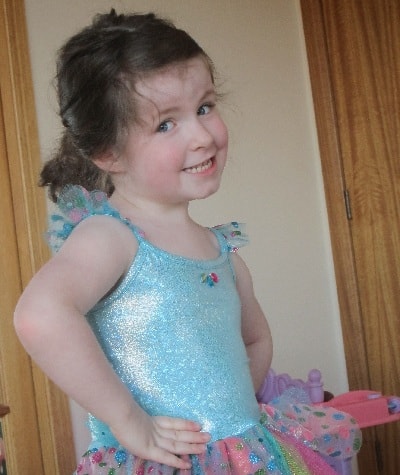 Then there were the tea parties. I think the novelty lies in being able to pour water from the sweet little teapot into the dainty tea cups and drink from them. Water mess inside I can deal with. And who can't resist having these little tea cups, saucers, teapot, sugar bowl and milk jug sitting on the kitchen bench against the kettle.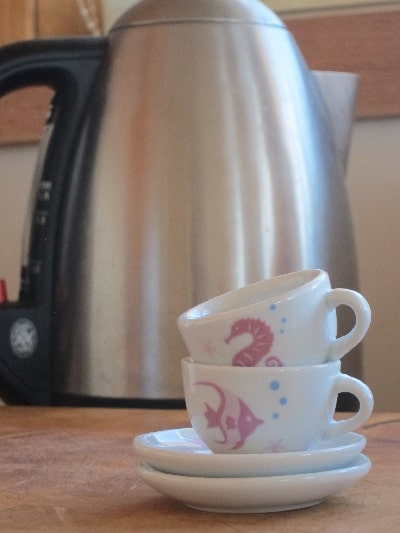 For me, it's been a big educational experience. Like, did you know purple tea is the best kind of tea? That Rebecca* did something naughty at school and had to sit in the corner? That Holly (nearly 2) can't pour the tea because she's not big enough (according to nearly five-year-old Ella who is chief tea pourer)?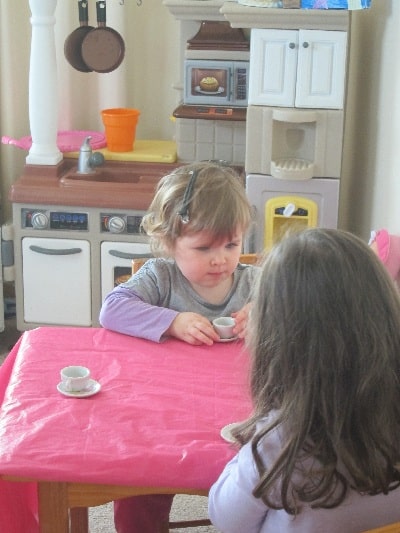 The latest creative play comes courtesy of Pink Poppy, who supplied us with: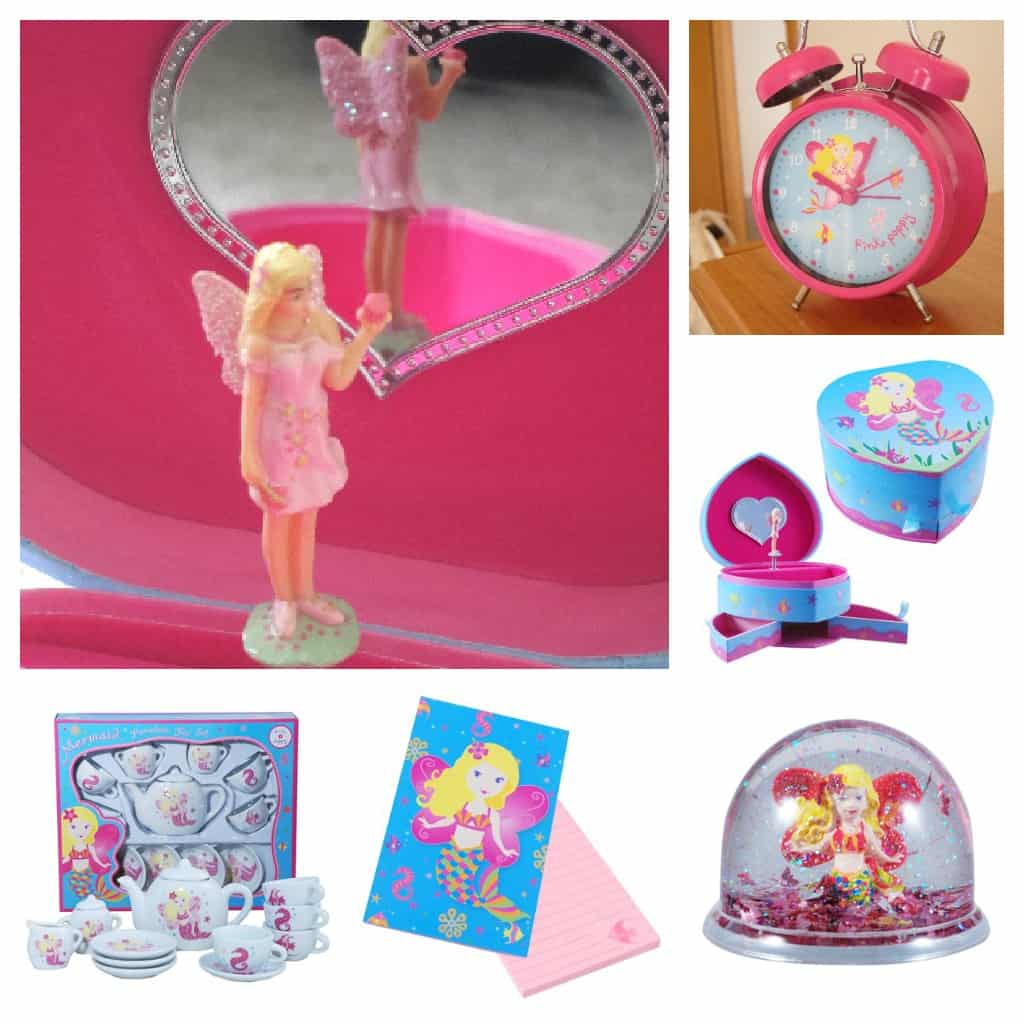 The beautiful tea set, dainty jewellery box with drawers, old-style bedside clock, snow globe, notepad with mermaid stickers and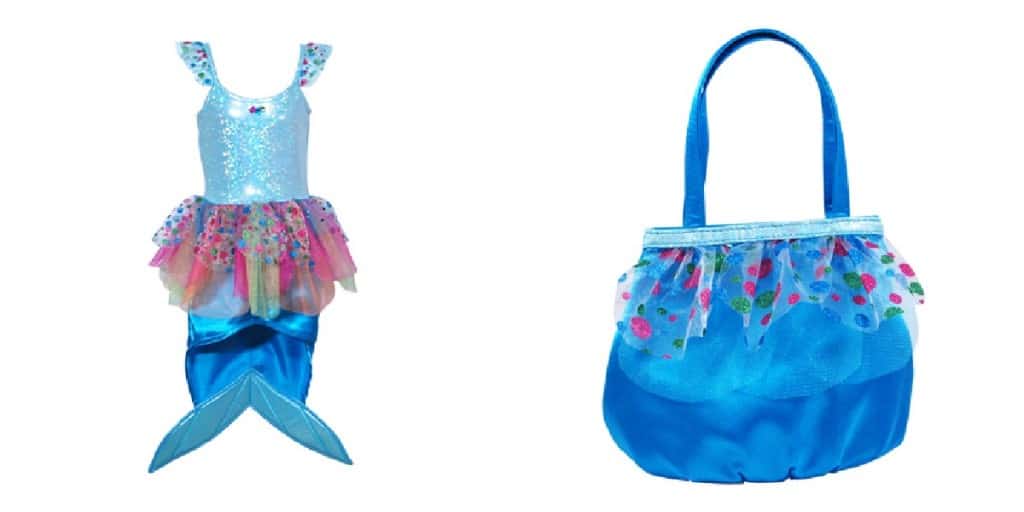 sweet turquoise mermaid outfit with matching bag,
Each embraced the mermaid theme. What stands out for me is the quality of the products, how beautifully designed they are and how they're all traditional toys that fully developing the girls' imaginations. More importantly, the girls haven't tired of them, like they do so many of their "gadget'' toys.
The site allows you to search by "theme" (buzzy bee, dancing, dinosaur, dragon, ladybug and more), making it easy. The real issue is choosing what theme and THEN what products! To learn more about Pink Poppy visit the blog, Twitter and Facebook.
We're giving away the entire collection for your little people to foster their imaginations. To win, simply tell us: what is your child's favourite game using their imagination?
Terms and conditions: The Pink Poppy competition will be judged on creativity and originality. The competition opens Saturday, September 15, 2012 at 1pm AEST and closes on Monday, October 1, 2012 at 7.30pm AEST. One entry per person. Australian entries only. There is one prize winner. The winner will be notified via email and name published here. Entries remain the property of Three Li'l Princesses and may be republished.
If you would like to learn about more of our giveaways, make sure you sign up to our eNewsletters. You'll also find more giveaways in the Aussie Giveaway Linkup.
DISCLAIMER: I received all the item above to try with the girls. I have not been paid to write this post. All opinions expressed are purely my own.
*Not her real name
ENTRIES NOW CLOSED