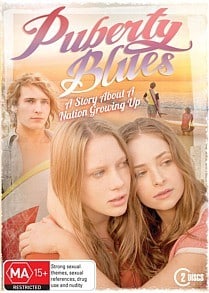 Having two girls in the house, I'm already worrying about the teen years. Ella was in trouble this year for kissing the boys – and she's only in Kindergarten. Seriously, what hope do I have as a parent?
I was a pretty tame teenager. Read: boring. The only bit of mischief I got up to was having an extra nip of Cottees red cordial in my water, resulting in three hours of giggling and then having the munchies. Now, how to make my two girls just as innocent…
With Ella having aspirations of being a singer and Holly quite obviously on track to become a dancer… well, need I say more?
The coming-of-age Puberty Blues TV series, based on the classic Australian novel by Gabrielle Carey and Kathy Lette, has brought back so many memories of that awkward teen period for me. I recall reading the book as a young adult and thoroughly enjoying it. Being able to see it come to life and to be transported to my teenage years was wonderful.
What I love most about the TV series was watching the parents growing up, just as much as the kids do. Best friends Debbie and Sue are so wonderfully played by Ashleigh Cummings and Brenna Harding – a real credit to such young stars. Claudia Karvan as Judy and Rodger Croser as Ferris are also real highlights for me. Sure, there was the odd slow moment where you wished the story would move a little faster, but ultimately it's one of the great TV moments of this year. It's up there with Howzat!: Kerry Packer's War for me this year, which coincidentally features the same producer in John Edwards.
EXTRAS: (Re)discovering Puberty * Knight House walk thru * Meet the Family * Now and Then * Directing Puberty Blues * and more…
Here's a promo for those who missed the series this year:
Did you see the TV series? What did you think?
How would you like a own a piece of the '70s story? We're giving THREE copies of the two-disc Puberty Blues DVD set (valued at $39.95). All you need to do is tell us what moment from your teenage years makes you cringe now? Fill out the form below.
Terms and conditions: The Puberty Blues competition will be judged on creativity and originality. The competition opens Friday, November 23, 2012 at 7am AEST and closes on Wednesday, December 12, 2012 at 7.30pm AEST. One entry per person. Australian entries only. There is three prize winners. The winners will be notified via email and name published here. Entries remain the property of Three Li'l Princesses and may be republished.
If you would like to learn about more of our giveaways, make sure you sign up to our eNewsletters. You'll also find more giveaways in the Aussie Giveaway Linkup.
DISCLAIMER: I received a copy of Puberty Blues to review. I have not been paid to write this post. All opinions expressed are purely my own.