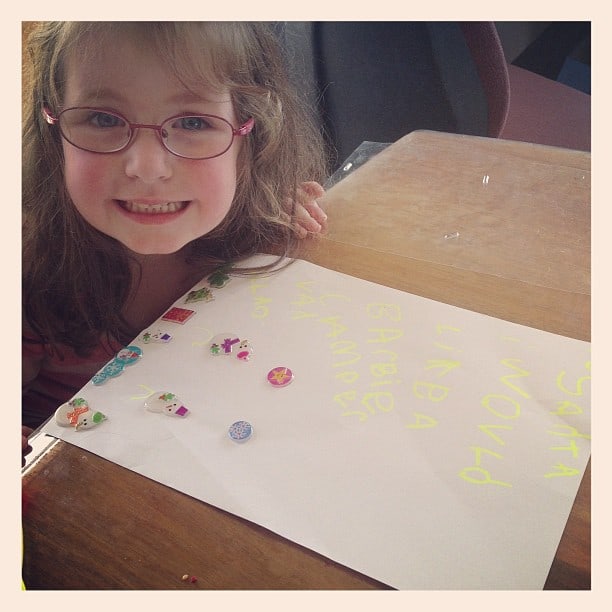 We did our annual visit to Santa yesterday. As predicted, Holly cowered, petrified of the big fat man in red. Ella, on the other hand, fought her way to the front.
"Have you thought about what you're going to say when he asks you what you'd like for Christmas,'' I said to her as we waited. She thought about it, then looked a little stressed. "Can't think of anything?'' I asked. "How about saying that you'd like your family to be happy and healthy''.
She looked at me with a screwed up nose. "No, Mum. That's silly,'' she said. "I'll ask him for a toy giraffe.'' This may have had something to do with our recent visit to the Melbourne Zoo – or more likely just a random thought.
So, off she went, to ask Santa for a stuffed toy. Something we really don't need looking at the state of her bedroom.
Half an hour later, walking through a major toy store to fit a helmet for Holly (Santa needs her measurements), Ella spots a Barbie camper van and starts jumping up and down with excitement. "I've found what I want, Mum. I want a camper van.''
"But you've already told Santa you want a giraffe,'' I reminded her.
After a rather sad face, yesterday afternoon was spent writing a letter to Santa.
News just in – Santa has ran out of camper vans. Or, more correctly, she already has waaaaay too many gifts for us to add another one to the pile. Now praying her memory is short.
Do your kids have their hopes pinned on a gift that's unlikely to arrive under the tree?
OK, let's see get into some last-minute Christmas giveaways.
Aussie Giveaway Linkup instructions:
If you're a blogger or business wanting to take part in the Aussie Giveaway Linkup:
1. Only link directly to the giveaway post/s and include the prize and end date in the linky tool below. Link each giveaway separately. If you need to delete it, hover over your link, wait until the red "x'' appears and click.
2. Giveaways must be open to Australian residents and be run by Australian-based bloggers or businesses.
3. Grab the button below to add to your post.
4. A new list is added each Sunday so bloggers need to add their links weekly.
5. Start entering the giveaways! Entry is at your own risk. We do not take responsibility for unfulfilled prizes or a blogger/business not abiding by their own terms and conditions.

Hosted by Three Lil Princesses