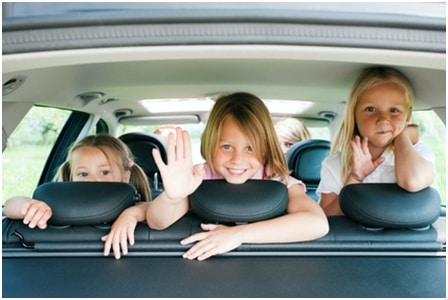 (Image: kidstravel2.com)
Sponsored guest post
For many, embarking on a family holiday is an exciting time. You and your partner are looking forward to a break away from the daily strains of work and the kids can't wait to splash around in the hotel pool and make sandcastles on the beach.
But there's often one part of the big family adventure that many of us parents dread: the car journey. Why? Because, no matter whether you've only got a short drive to the airport or opted for the choice of rental cars to give you more freedom to explore at your destination, you know there'll be the constant echoing of "are we nearly there yet?!" ringing in your ears with every journey you make.
So, with the kids being less than sympathetic to your need for concentration and wanting the fun to start right there, right now, you'll need to come up with some ingenious ideas to save your sanity.
Well, to help you, here's my top 5, tried and tested ways to keep the children entertained for the next time you embark on your family travels:
1. Give Them a Simple Map of The Journey
Since they're always asking "are we nearly there yet?", why not give them their own little map so they can find out the answer for themselves! Before each journey, print off a small simple map of the route you're going to take and let them track where they think they may be.
If your children are a little older, and if the map includes any symbols of landmarks they may recognise, give them a little key of what each symbol means so they can keep an eye out for the landmarks as you drive past them. Or, if your children are a little younger, let them draw their own landmarks onto their maps they may spot on the journey.
This pastime activity is a great way to teach them about what's around them, will let them be creative and will keep them quiet – all at the same time!
2. Connect The Dots
If you've got several children, a great way to keep them all entertained at the same time is with the 'Connect the Dots' game. Simply draw on a piece of paper lots of rows of dots adjacent to each other in a big square, and give each child a different colour felt tip pen or crayon. Each child then takes it in turns to draw a single line between the dots with the aim of trying to make a 'box'. The person who makes the most boxes once the whole square has been filled in, wins!
3. Scavenger Hunt
Before you set out on a car journey, jot down a list of items that your children have to try and spot whilst you're driving around – simple things, such as 'a red car', 'a field of cows', or 'a church' are a great way to keep them captivated and quiet!
4. Duck
This game can be tied in with 'scavenger hunt' and has proven successful with many children I know. If you've written out a list of items for your children to spot throughout the duration of the journey, you can make the game more exciting by them not only ticking these off their list, but also ducking and shouting 'duck' when they see the item. The quickest person to spot the item and duck, wins!
5. Next-door Neighbour Game
If you're stuck in a traffic jam and the children are starting to get a little fidgety and agitated, then playing the 'Next-door Neighbour Game' is a great way to keep them entertained when traffic is at a stand-still. Take a sneak peek at the person in the car alongside (or behind!) you and get your children to imagine what kind of person they are. Make up a name, job, what hobbies they have or what their favourite dinner is. Get the children to be as inventive as possible and you're all bound to have great fun trying to guess what that person may be like!
What games do you play in the car?
Experienced freelance writer, Lara Anderson, wrote this article. Lara specialises in providing travel advice for families!